BOOK ABOUT IMPACT OF MASIULIS 0
Vidmantas Kiaušas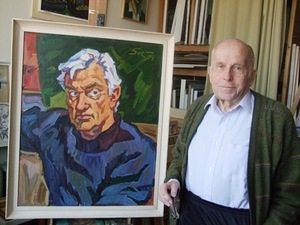 In brief: The book of memories, conversations and letters "Algimantas Masiulis: Soul under Armour of Teutonic Knight" (Kaunas: Kaunas State Drama Theatre, 2012) was published last summer. The informative book about the life and works of the colourful personality was compiled by the theatre critic Elvyra Markevičiūtė. It is a big and praiseworthy work.
The book was issued in 500 copies and includes articles about the actor, conversations with A.Masiulis, recollections of Panevėžys State Theatre and Kaunas State Theatre actors, directors, men of letters, artists and wife of the actor Gražina Masiulienė. These texts are accompanied by biographical facts of A. Masiulis, list of more important roles, bibliography, iconography, audio and video recordings, sources.
In the book the actor A.Masiulis is remembered as an intellectual, well-read and elegant person on stage and in daily life, who has a direction, is dedicated to his vocation but is sometimes tortured by some chagrin, like many artists. Many actors, directors and artists speak about A.Masiulis; still, there are no voices of theatre critics.
It seems that only when maestro reached mature age we found out more about his passion for fine arts. More publications appeared where A. Masiulis was photographed not only on the stage but also at the easel.
After reading the abundantly illustrated book, one gets persuaded that the actor searched for essence all his life and tried to avoid the fine running on surface. His analytical mind succeeded to find peace in spiritually free creative work without any regulated restrictions.