PUBLIC SPACES: BETWEEN SOVIET MONUMENTALISM AND SUBURBAN LITHUANIAN CENSORSHIP 0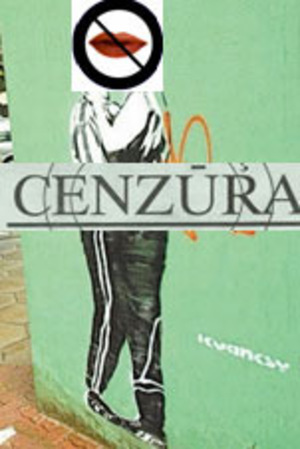 Mindaugas Grigaitis
www.kamane.lt, 2009 08 20
Photo of Lietuvos Žinios
In brief: Oppressive mood appears while walking in public spaces of Lithuanian cities. This mood becomes event worse in the public spaces of Kaunas, which has an exceptional history of culture. The public spaces of this city are extremely stagnant and restricted by monumentalism.
Oppressive neutrality prevails in smaller towns as well. All towns look similar, they are renovated little by little, but the features of public spaces remain identical – they have to be clean, functional, tidy, with some monument in the centre, which would immortalise the history of Lithuania and the town.
Discussions have already started about the creation of modern public spaces in cities – Vilnius, Kaunas and Klaipėda. Meanwhile, smaller towns seem to have reconciled with the label of province and do not raise the question of creation of contemporary public spaces.
One should agree with statements of public art experts of other countries that public space is understood in a narrow way in Lithuania as well as in the entire region of Eastern Europe. The understanding ends with concepts "clean", "tidy", "neutral" and "monumental". Still, the contemporary space should be realised as a place with an atmosphere. It should be a network of communication, where a millionaire and a tramp, an old lady feeding pigeons and a kissing couple, tourists and local passers-by would feel well.
This is why the author states that he would not be against if a caricature of Vytautas Magnus or some other monument would appear somewhere in Kaunas. Such a perspective is pure utopia, of course. The municipality of Kaunas famous for its conservative attitude would not understand such a gesture. It would be evaluated as the biggest insult to the history of Lithuania and Kaunas name. Nonetheless, such a work would mock the ill inclination to build various statues in public spaces rather than the knight himself.
The author believes that the ironic anti-monumentalistic game could bring some life into the frozen public spaces of any town. Still, the attempts to fight with the conservative attitude prevailing in public spaces are very rare. They usually bring resentment rather than support. One should remember the anger of the vice-mayor of Kaunas Stanislovas Buškevičius at the ostensibly gay graffiti on the wall of K. Donelaičio Street in Kaunas. Looking at the drawing that made the vice-mayor preach against homosexuals and paedophilia, the author rejoiced that public art with a social flight started appearing in public spaces of Kaunas alongside grand statues.
However, according to representatives of Kaunas municipality, such symbols should not appear in spaces controlled by it. They are non-sterile, ugly, non-monumental; therefore, in the opinion of the city authorities and some inhabitants of the city, they should move to cellars, attics or bunkers.
Another example is the permit to create clearly defined drawings only in clearly dedicated places on the bicycle route in Laisvės Alley in Kaunas. Why wasn't freedom given to the creators? Perhaps this is the reason why there is almost no professional public art in public spaces of Kaunas, which would bring art closer to the public. Creators are disciplined, art is institutionalised.
It is hard to speak about mechanisms of public space censorship in other towns; still, the policy is clear: the main ideas date back to the inter-war period. A new monument is considered to be the main accent while renovating public spaces. Monuments are surely needed as important signs of the past. Stories of a town should be told to contemporary inhabitants. Still, such monuments may not be considered the identification of the contemporary city and they should not dwarf the contemporary life of a town.
Thus, it is naïve to speak about modern public spaces in smaller towns when they are ideas of the future even in big cities. Still, nothing is impossible. Perspective thinking and systematic work is important here. The formed contemporary public spaces would form new and modern town communities. Do authorities and inhabitants of Lithuanian towns need such communities? This question remains unanswered meanwhile.