CLASSICS OF PAINTING LIVE: VILNIUS AND UŽUTRAKIS, ČIURLIONIS AND HIS CONTEMPORARIES WEISS 0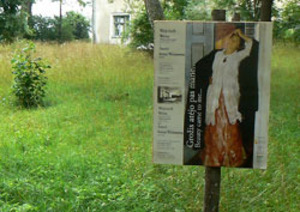 Rasa Andriušytė
www.kamane.lt , 2009 08 12
W.Weiss. "Caprifolium". 1909. Oil. 91x119 cm. This and other works of W.Weiss are from www.gallery.wojciechweiss.pl
In brief: This summer offered a number of wonderful exhibitions in Lithuanian galleries and museums. The variety of exhibited works brought back discussions about painting and history of art, collecting and buying of artworks to the press and parties again; exhibitions are visited several times in order to look at works closer.
Two selective exhibitions of modernism "Dialogues of Colours and Sounds. Works of Mikalojus Konstantinas Čiurlionis and his Contemporaries" (National Art Gallery) and the project of Raminta Jurėnaitė "Two Traditions of Vilnius Painting: Abstraction and Modernism" (that took place in 17 Vilnius galleries) sharpened the eye and hearing for quality art. Finally the culture field filled up with names of important authors and significant works.
One more exposition of Wojciech and Irena Weiss works in Užutrakis Manor is equally interesting and important. They are both well-known Polish artists, contemporaries of the Lithuanian artist Čiurlionis. The exhibition was organised just in time: three important works of Weiss "Evening Ray", "Music" (both 1898) and "Dance" (1899) are already presented in the exhibition "Dialogues of Colours and Sounds" in Vilnius.
The exhibition presents landscapes, portraits of close people, sketches of cosy interiors and corners of the garden painted in the homestead of Weiss family Kalvaria Zebrzydowska near Krakow. The "White Period" in Wojciech Weiss' works is light and calm by all meanings. The young artist, who graduated from Krakow Art Academy in 1899, made a successful career. After receiving the stipend of Užutrakis counts Tiškevičiai, he improved skills in France and Italy in 1899-1901.
W.Weiss. "Renia in a White Robe". 1909. Oil. 49x34 cm
W.Weiss. "Renia at the Door". 1909. Oil. 175x98 cm
The exhibition in Užutrakis Manor was prepared very professionally. It is formed of well-selected works from the heritage of both artists, enlarged photographs, extracts from their letters and literature texts. The second period of W.Weiss's work and the panorama of works of his wife Irena Weissowa is presented thoroughly. However, the exposition makes no notes about the first modernistic period of W.Weiss' creation until year 1905, when his passionate, expressive manner of painting reminded much of the works of the Lithuanian classic M.K.Čiurlionis. The inclination to music affected their painting a lot.
Actually, both these artists, M.K.Čiurlionis and W.Weiss, were people of numerous talents: they painted, played music, wrote poetic prose. They were both interested in the search for relation between music and art topical to artists of the beginning of the 20th century. It should be noticed that the "Evening Ray" of W.Weiss and "Whisper of Forest" of M.K.Čiurlionis (1904?) exhibited at the National Art Gallery in Vilnius have much in common.
M.K.Čiurlionis. "Whisper of Forest". 1904. Oil, canvas, 76x58,8 cm
W.Weiss. "Evening Ray". 1898. Oil. 80x60 cm
Meanwhile, the "White Period" paintings of W.Weiss may be described by words "beautiful, aesthetical, subtle" the best. The beauty of paintings is transparent and slightly romantic. In fact, it is aesthetical beauty full of courteous admiration of the world. This admiration is reflected in several works with a big glass ball unusual for our gardens and parterres. Weiss' pastels with optical effects of the glass ball are among most interesting and unexpected works in this exhibition symbolising the innocent admiration of Weiss of the surroundings and their analysis.
W.Weiss. "A Rose and a Glass Ball". 1909. Oil. 96x65 cm

W.Weiss. "A Glass Ball". 1908. Pastel. 37x28 cm

W.Weiss. "Withering Sunflower". 1905. Pastel. 80x48 cm
The admiration of Weiss of live surroundings is extremely vivid in compositions in which the artist captured changing statuses of nature in impressionistic manner, for example, the painting "Rainbow" (1909). Aesthetics of Japanese art and composition methods made a big influence on Weiss' studies of nature. His paintings picturing gardens, meadows or roses are always fragmented but very characteristic.
The following of Japanese ukijo-e masters of graphics is visible in paintings of Weiss. The work "Yard in Spring Rain" (1908) is painted in a fresh and dynamic manner, it is close to Ando Hiroshige's carvings of rain views. The painting "Rivulet in Spring" (1909) was inspired by Katsushika Hokusai. "Cobweb" (1909) is a wonderful colour impression of a fragile motif. Creativity and mastery of Weiss learned from ancient Japanese artists may be seen in the painting.
W.Weiss. "Rivulet in Spring". 1909. Oil, canvas, 45x60 cm
W.Weiss. "Cobweb". 1908. Oil, canvas, 43x63 cm
Both artists, W.Weiss and his wife I.Weissowa painted intensively during the summers in Weiss' homestead in Kalvaria Zebrzydowska. The style of painting of Irena always remained closer to realism of Holosy. She painted landscapes, still-lives, portraits and engaged in mosaic art from the seventh decade. Her works are darker and closer to real life. The main motifs found in her paintings are trees, twilight. Irena Weissowa was a talented painter, her works do not lack originality, even though she created in the shadow of the strong personality of her husband.
I.Weissowa. "Workshop in Krakow, Interior". 1908. Oil. 49 x35 cm

I.Weissowa. "Landscape with Sombre Sky". 1922. Oil. 33x48 cm

I.Weissowa. "Venice". 1913. Oil. 46x34 cm

I.Weissowa. "Dancing Puppets". 1917. Oil. 60x47 cm
The works of Irena and Wojciech Weiss reflect the typical features of Polish painting of the beginning of the 20th century. Having analysed the French impressionism of the 19th century, secrets of Japanese carvings, they created the "new art" and called it modernism. Still, it was symbolic in essence. Vestiges of tragic historical memory of Poland are hidden in views of aesthetical beauty. Nature of homeland, cosiness of home, strong family, dignified people in the artists' paintings are not only views of successful personal life. The paintings also express the dreams about independence of the nation.
The restored Užutrakis Manor. Architect Józef Huss. Photo by R.Andriušytė
View from Užutrakis to Trakai Castle. Photo by R.Andriušytė
The restored Užutrakis Manor, where the exhibition is presented, belonged to counts Tiškevičiai and was designed by the architect Józef Huss (1846-1904). It has been renovated recently. Also, attempts are made to renew the landscape of the park designed by the French landscape architect Eduard André (1840-1911).
Advertisement stand of the exhibition in Užutrakis. Photo by R.Andriušytė