Breakthrough and freedom: Kaunas artists' exhibition Rebirth 5
Ainė Jacytė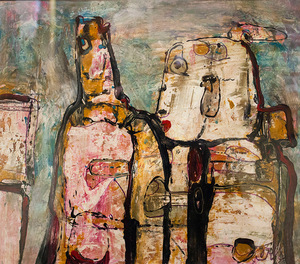 In brief: Rebirth is a joint exhibition of professional artists that has been organized for more than two decades and is dedicated to commemoration of two important dates - February the 16th and March 11. Each year the exhibition surprises not only with the exhibited works' range of visual expression, but also with the variations of topics that move from reflections on the being of the human, the truths he discovers and hope in faith to ironic depiction of everyday life and playful interpretation of gray routine of days.
This year the exhibition is held in two spaces: at Kaunas County Public Library and Girstutis Culture and Sports Centre until March 15. 105 authors (with more than 200 artworks) participate in the exhibition.
The larger part of the exhibition consists of paintings, among which Pranas Griušys' canvases Rest and Trotsky and the Church of Resurrection stand out. Works, completed with precision, ridicule the public issues (the recently discussed topic of Vytautas the Great monument next to the Kaunas Municipality, political action). The situations created on canvases raise a smile and at the same time urge to think about what is going on, however the author does not moralize the viewer.
Energy and freedom is felt in the works of Irena Mikuličiūtė (Mika) - St. George I and St. George II. The artist's aim to affect the viewer not through the easily recognizable symbols but through abstract forms that encourage a closer look at the creation of new experience is revealed through picture spaces that are filled with dynamic blue, purple and green brush strokes. Lush, slashing brush strokes are also characteristic to Romanas Averincevas' painting. In the painting At the gates of heaven contrasting color stains are united with thick, textural, but very plastic brush strokes on the canvas.
Human is the main inspiration behind Raimundas Majauskas' oeuvre. In the canvases Summer animation. Scene I and Summer animation. Scene II diverse types of people are revealed through the continuous movement of compositions. They are conveyed in fine, but emotional brush strokes and a wide color range.
In his works Angel of hope, Red Pensive Christ, Care sculptor Leonas Vytautas Strioga, with the help of laconic, minimalist forms, expresses a deep and sensual content. Natural wood texture, sharp, vertical forms are characteristic to Sigitas Straigys' wooden sculptures. They draw the viewers' gaze upwards to look for yet undiscovered spaces.