Best artwork of the year. Is it, really? 19
Astijus Krauleidis-Vermontas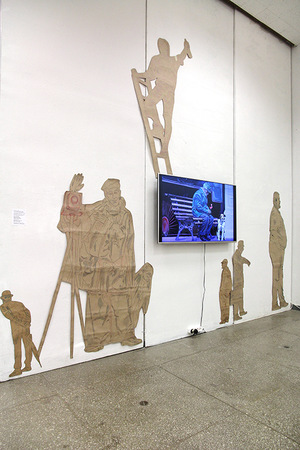 In brief: The exhibition The Best Artwork of the Year held traditionally at Kaunas Picture Gallery is necessary in the Kaunas art context. Not because it attracts a lot of visitors, but because it is important to see how artists live. Unfortunately, exhibition was especially lacking young authors who would boldly represent their work. It seems as if they had disappeared or they are afraid to compete with the old-timers. However, the older generation is not afraid to experiment and impress the viewer.
Each year, the museum committee appoints nominations, which seem to actualize what artists' find important and what they want to show and emphasize with their works. For example, a nomination for a youthful approach to serious things was given to artist Monika Adomavičiūtė for her work Connect the dots. In her work, M. Adomavičiūtė chose to combine two different categories - childhood and maturity and playfulness and pragmatism.
Meanwhile, sculptor Evaldas Pauza chooses to look at a bas-relief quite ironically and even sarcastically. His work In the kidney-shaped pool shows how professionally the thought is expressed through a clear choice of material (aluminum). The emphasis is on the wrestling of two women (not in a ring or arena, but in a kidney shaped pool). Artist depicts women with imperfect forms (full, disproportionate) and thus seeks to show that even this kind of body is attractive in art.
Nomination for relevant and contemporary topics was earned by a photographer Artūras Morozovas who presented a photograph The birth of Kikimora (the series of photographs were presented at the Tenth Kaunas Biennial). Yes the topic is relevant, but is it contemporary? Nonetheless it is good that the art of photography receives attention among other works. The essence of A. Morozovas' photography is to actualize the hot spots of the world, especially the war.
Artist group, which consisted of Jūratė Kluonė, Antonas Kaliužka, Edgaras Grušnys, Kšyštofas Četyrkovskis, Tadas Šimkus, Žygimantas Amelynas, Ieva Voroneckytė and Vytenis Jakas and their mural Urmas railway station (163 votes) has attracted the most attention from the residents of the city. It also won the Kaunas City Municipality, Jonas Jučas and Kaunas Jazz prizes. It is a universal artwork oriented towards functionality and practicality. It not only adorns the shopping place Urmas, but also appears to be a practical work, which shows what city residents need. It is a mural with a clear idea. Maybe people were drawn to it by the relevance of this work and the video about the creative process. However, this is an excellent example of how art can find a place in the city of Kaunas and be attractive to viewers (exposition featured stencils of the drawings and a film).