IN MEMORIAM OF A.VAITKŪNAS. "VATKINSAS" AT INSTITUTE 0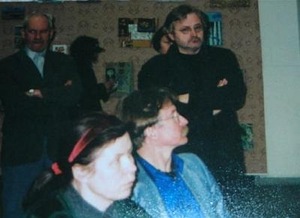 Aušra Barzdukaitė-Vaitkūnienė
www.kamane.lt, 2008 09 22
Defence of diploma works in 2003. (In front – painters A.Petrašiūnaitė and P.Griušys; A.Vaitkūnas is standing behind them)
In brief: Arūnas worked at Kaunas Art Institute enthusiastically. When the Painting Department was established in 1996, he was very satisfied. He was glad that the academic society was increasing in Kaunas that it granted intellectual space for the city. It was important to him that students would become real artists who would have their ideas and artistic position instead of only learning the craft.
He took care that artists would lecture in the cathedral and regretted that it was not possible to invite the best due to the lack of funds. In order to widen artistic life in the city, Arūnas involved students into exhibition life.
The painter Agnė Jonkutė told, "It seems that A.Vaitkūnas was the engine of the Painting Department. He succeeded to involve students into the exhibition life. Exhibitions of Kaunas Painting Department students were organised in this way (exhibition in the gallery Akademija in Vilnius in 2001), joint exhibitions with the lecturer A.Vaitkūnas (exhibition at Arka gallery in 1998, exhibition "Development" at Šiauliai art gallery in 2002), joint exhibition of Angis and students ("Brush the Specified Place" at Kaunas Picture Gallery in 2002).
The presentation of Bachelors and Masters' diploma works caused extremely much concern. Arūnas used to search for halls in the city, to negotiate about them. He wanted the society to be able to see works of young artists, that it would be the first independent start for them.
The former student Darius Rakauskas remembers, "Spring of 2002, my third course, second semester. Exhibition hall at K.Donelaičio Str. 16. Exhibition of Masters' diploma works. It is necessary to push something, to carry, to hold. A. Vaitkūnas questions me without any ceremonies whether it is good, whether it is possible to do something in a certain way. I stopped fearing to exhibit works since then. The fact that the respected professor searched for the best variant of the exposition without emphasising his personality remained deeply in my heart."
Arūnas did not avoid to help talented students and to intercede for them personally.
A.Jonkutė remembers, "If not for A.Vaitkūnas, I would not have left for Paris after the Master studies. This is only hearsay, but I believe it is true that the then-rector A. Šaltenis wanted to send me to Nida after the defence. Still, A. Vaitkūnas did not yield and reminded A. Šaltenis of his earlier promise. This was how I left for "Cite Internationale des Arts" for a month. During A.Vilpišauskas' exhibition in 2005 both Vaitkūnai drew me a plan what I had to visit in Paris."