The book about the last Barbora 3
Lina Klusaitė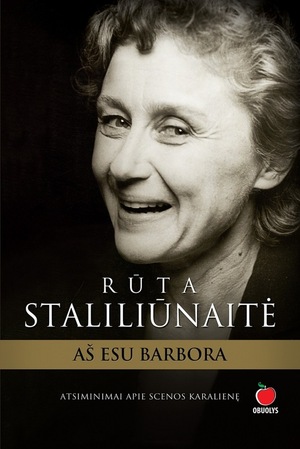 In brief: The review of the book compiled by Svajūnas Sabaliauskas "Rūta Staliliūnaitė. I am Barbora. Recollections about the Queen of Stage" (Obuolys Publishing House) is presented. As the book consists of memories about the late actress, memories can hardly be reviewed, the author marks. And the book is as valuable as people who remember Rūta in their stories are interesting.
All of them enable the reader to feel the personality of the actress full of maximalism and contradictions, one may find out about secret moments of life, rises and falls. Still, the book tells nothing about the creative work of Rūta, which was the most important to her.
Sabaliauskas oriented himself to the mass reader and separated the person from profession; as a result, the book turned into a light book of memoirs which may be enjoyed during one's free time. We will not find evaluations of professional critics here, analyses of roles, extracts from reviews, which are usual in publications dedicated to the memory of actors. Sabaliauskas is a journalist, and this influenced the emotional lexis of this publication and its content.
However, the book has been written and we can enjoy memories of people who knew Staliliūnaitė. Also, readers will most probably the thankful for the appended CD which has preserved the well-known voice of Rūta.