RESPONSIBLE AND WITH HOPE 0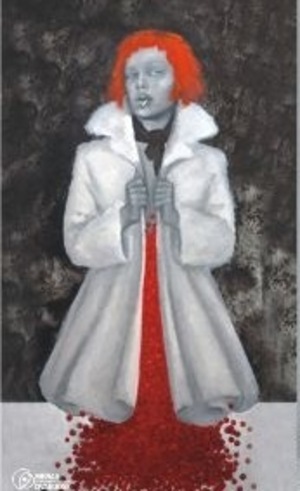 (Introduction to the newest exhibition of the painter M.Kosinskaitė in Kaunas at the Communication History Museum. On the occasion of the published catalogue.)Vida Savičiūnaitė
www.kamane.lt, 2008 10 25
In brief: The works of the painter Miglė Kosinskaitė seem to be easy to arrest with the help of words only at the first glance. To say that her creation pulsates, flutters, intrigues by romantic surrealism is to say almost nothing.
When one states that it is elegant and decorative, effective and very personal, the essence stays lingering in the air. The accusation that her personages are theatrical, with own character, mysterious and hard to educate is only a very vague note about the most important things.
Therefore, one has to turn into a detective and search for signs of recognition typical of M.Kosinskaitė only that could help to describe the originality of the artist in the crowd of contemporary painting.
Eyes. Characters of Miglė's paintings are always observing the audience. Flamboyant ladies of high society and sad jokers, graceful women and medusas, pensive and careless coquettes, shameless and shy women, women of decadence, queens of spades and Salomeas, free and reserved, rich and impoverished – all of them have their opinion about us. They observe people watchfully and consider us in their internal monologues. The paintings are like partners in a dialogue. It is painting speaking through the eyes of characters.
Personality. Personages of Miglė come to us with vivid autobiography. The plane of paintings turn into a stage of mono-performance, from which a personality addresses us. Firm by the chosen way of life and understanding of the word. Bright, original, strong, even by their fallacies and, thus, making one to listen up.
Romance. Miglė's paintings are free improvisations on themes of romance, generalised retro style, East and West civilisations. Sometimes it is a sad, serious and refined game with moods, fashions, fates and emotions. It is longing for something lost that has been destroyed by the civilisation, urbanisation and globalisation.
Such paintings are born from nostalgia to the decadent manor inside a person's heart and from longing to heritage of a woman's personality.
Eternity. What century do Miglė's heroines come from? Why are they speaking with us so willingly and freely? Coming from paintings of several centuries old, from luxurious palaces, historical and love novels, they know everything about us and do not disguise it. These are openings of female secrets, flights and falls. Their eternity does not depend on the calendar change fashions.
Paintings represent a statement of the eternal golden age inside a human being based on impressions of early Renaissance, small Dutch, Secession, Art Deco, silent cinema and other sights. Miglė does not disguise that she loves manipulating with epochs and images so that one would not be able to understand at the first glance when the painting was created – yesterday or a hundred years ago.
Sexuality. One may say at once that these paintings have been created by a woman. The reason is not the pictured women. The smell of female secret and passion may be felt in Miglė's canvases. It may not be created artificially. Naturally revealing sexuality sounds like a rare and expensive sign of a person's identity in life and art of the 21st century, where differences between a woman and man melt down.
Conclusion: The gathered evidence enables to suspect that M.Kosinskaitė's works and the community of her characters are unique, highly individual and very much interested in our life.
While the case of creation of the artist is not closed yet, the author reads the verdict to the artist - she should promise not to turn out from the chosen road and to avoid any kind of influences.
It is the road which may be found among thousands of other paths without advertisements or expensive navigation systems. This road may be recognised while listening to the acoustic voice of one's heart.