IN MEMORIAM OF A.VAITKŪNAS. SALLIES OF YEAR 1990 - 1992 0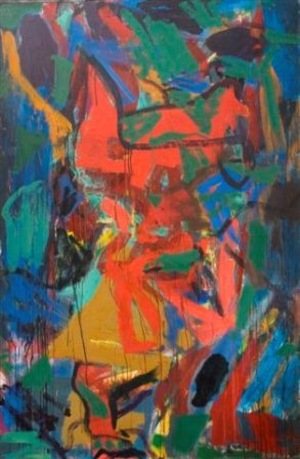 Aušra Barzdukaitė-Vaitkūnienė
www.kamane.lt, 2008 10 19
A.Vaitkūnas. "Headless Angel", canvas, oil. 192 x135 cm, 1991-1992.
After Lithuania regained independence, many artists left the Lithuanian Artists' Union expressing their position in this way, willing to enliven the artist life that got frozen during the Soviet times. The ones who left the union, started rallying into groups. This was how the group 24 appeared in Vilnius in 1989, several smaller unions. It was new and unexpected. It was easier for groups to distance from semi-official art, to receive premises for exhibitions.
The group Angis formed in 1990. Its head and founder was the painter Jonas Gasiūnas. Angis was established on the basis of similar artistic thinking of friends and colleagues.
The beginning was in Vilnius. The majority of the group members studied at the former Kaunas S.Žukas Art Institute, where the main lecturer of painting was Alfonsas Vilpišauskas. This is why J.Gasiūnas decided to invite artists residing in Kaunas to the group as well: Eimutis Markūnas, Antanas Obcarskas, Rimvydas Jankauskas-Kampas and the most important teacher A.Vilpišauskas.
Later two individualists were invited to Angis group – Arūnas ir Mykolas Šalkauskas (1935 - 2002).
Arūnas and Mykolas met in 1982 at Kaunas Picture Gallery, where the exhibition "5 Kaunas Painters" took place. They talked about creation, only Arūnas used to regret that he could not communicate more and deeper with M.Šalkauskas due to his health. The painter followed the regime precisely. Still, when they met in exhibitions, Mykolas asked Arūnas for the opinion on his canvases, and he also enjoyed Arūnas' works.
The works of Mykolas seemed very live to Arūnas, he considered it interesting that the painter repainted canvases many times in search for perfection. Their creation was a conscious decision to go by this road.
When J.Gasiūnas offered to Arūnas to become a member of Angis, he doubted because he evaluated gatherings of artists and art groups sceptically. Later he decided and agreed saying that it would be a test for him.
Both 24 and Angis group were groups of men cherishing the patriarchal mantality of a male artist. Angis pulsated in physical and even aggressive creative power.
Relations with foreign artists appeared at that time. Angis members invited them to Lithuania to joint exhibitions. Active creative movement took place. The group members (not all) were affected by the "new wild" German movement. When information from the West flooded in, it was not possible to avoid it.
Arūnas wrote to me in his letter of July 7, 1992: "I brought back works from Angis exhibition (the large ones, I hung six of them and joined into one square of paintings). Still, there was no reaction, like always here. Ideal silence. A. Andriuškevičius* arrived, as the exhibition of the group 24 was opened at the same time. I only feared that there remained too much external physical power, but, you know, it is impossible to show this format in my workshop."
The group was united by joint exhibitions, friendship; still, artists are egocentric people, therefore, one may not avoid competition, silence about successful works, disguised envy.
Despite this fact, it was a rise, an outbreak of creation in large formats, avalanches of colours. Arūnas ordered big frames, painted the "huge colourful" works and prepared for exhibitions. He rejoiced for having plenty of ideas and was eager to implement them.
*) Art critic Alfonsas Andriuškevičius was the ideologist of the group 24.