IN MEMORIAM OF A.VAITKŪNAS. JIESTRAKIS 0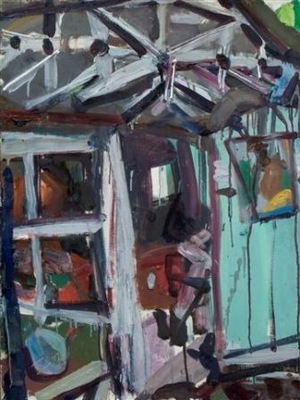 Aušra Barzdukaitė-Vaitkūnienė
www.kamane.lt, 2008 10 19
A.Vaitkūnas. "Kitchenette", canvas, oil. 80 x 60 cm, 1993.
In brief: Once we met the painter Alfonsas Vilpišauskas while passing along a street of Kaunas old town. He revealed that he found many wonderful motifs for painting in the homestead of the poet and beekeeper Gintautas Dabrišius in Jiestrakis. Arūnas knew G.Dabrišius. He sometimes visited Arūnas' workshop in the attic of one house in Laisvės Alley. I don't know how it happened but soon we received an invitation to come to Jiestrakis.
The mysterious homestead met us surrounded by big trees. An apiary was located behind the garden. There was a large house, a yard kitchenette, a hen-coop and further – a newly constructed house with a yard full of buildings. Meadows with the Jiesia river surrounded the homestead.
A small house stood further from the homestead in which the younger brother of G. Dabrišius carved wooden sculptures. We settled with all our things in this house. The summer of 1994 was very changeable – the downpour of rain was changed by heat of the sun.
Arūnas found motifs quickly. He entered the dark hen-coop and started painting. The mother of G.Dabrišius used to wonder: "What does this artist see in the dark there?" Arūnas admired the twilight and structures of the stable, hen-coop. He also painted ornamented windows of the kitchenette in daylight when it did not rain.
He felt the simple rhythm of forms in this homestead. The motifs were without intricate plots, ideas, as if inspiration was expressed in canvases by the rhythm of colours and brush strokes. When Arūnas painted, the surroundings did not exist to him. He was in a different world, in a "status", as he used to say.
He tried not to look at the work after finishing it. Then, again, after several days, he used to start thinking that such art was not actual and interesting any more. Arūnas spoke about examples from art history and stated that paintings of domestic, social themes were actual at a certain time, and they might be interesting only to art historians, if they did not represent good painting. Meanwhile, Ch.Soutine, for instance, who painted buckets of gladioli, always remains interesting to people who feel painting.
Later rains started. The clayey roads looked like a slimy porridge. G.Dabrišius said directly one day: "Get ready to go home. If it rains more, you will not be able to drive away from here."
The weeks at the homestead passed quickly. We hardly fit the entire package of paintings to the car. Arūnas and I gave a painting each to G. Dabrišius as a present. We also brought a gift home – the poet's brother carved a wooden bird for the memory.