ANOTHER TWO PROJECTS ON THE CROSSROAD OF KAUNAS HISTORY AND FUTURE 0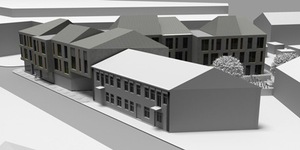 According to the minutes of KAUET
www.kamane.lt 2008 03 10 In brief: Kaunas Architecture and Urbanism Experts' Council (KAUET) considered the perspectives of renovating the low multi-apartment house at Šiaulių Str.18 (near the station market) and at Nepriklausomybės Sq. 3 on March 5. Both projects are closely related with the historical spirit of Kaunas; therefore, sensitive attention should be paid to them.
1.Solutions of the technical project of the low multi-apartment house at Šiaulių Str.18 (author - Lukas Tarnauskas, customer – Vaizdų Pasaulis UAB).
The multi-apartment residential house with commercial premises designed on the basis of the land plot detailed plan approved of on 20 07 2007 at Šiaulių Str.18 is presented. It is planned to construct the new object on the corner of Šiaulių and Apynių Streets. 25 flats of one-three rooms are planned in the building as well as commercial premises of 150 m² area on the first floor. A parking lot for 30 automobiles will be constructed in the cellar.
The committee of experts decided to approve of the solutions in essence and recommended to analyse the possibility to change the general and detailed plans intensifying the construction density. According to experts, the building should be higher and of greater volume, bolder architectural solutions may be used. The plan and functional structure of the building should be improved.
*****
2. Solutions of the detailed plan of the land plot at Nepriklausomybės Sq.3 (designed by G.Janulytė – Bernotienė studio)
G.Bernotienė presented the urbanistic situation of the square. She emphasised that the movement along Gediminas Street was becoming more intensive towards the shopping centre Akropolis and university in the opposite direction. Also, the square is exceptional for the mix of styles, the slopes of Žaliakalnis.
G.Zykuvienė described the planned building: it should be of six floors, of two parts. The internal yard should be covered by a glass roof. Financial and trade institutions are planned on the 1st-3rd floors of the building and apartments on the 4th-6th floors. An underground parking lot for 84 automobiles of 2 floors is planned in the cellar. The first plan of the building is withdrawn so that the altitude of 13.5 m would dominate.
The committee of experts decided to approve of the project and to choose variants A and B for further development.
Prepared by Jūratė Merkevičienė