Evelina Šimkutė, "Šilainiai facade is only one piece of the puzzle" 0
Interview by Jurga Tumasonytė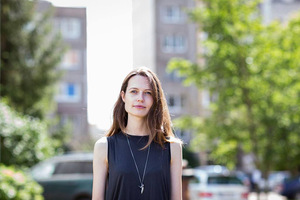 In brief: Evelina Šimkutė has been photographing her district and making art in relation to her native spaces for many years. Last autumn she started the Šilainiai project, which consists of Kaunas district of Šilainiai photography archive on the internet, photo-walks, art photography workshops in local schools, exhibitions and Šilainiai photo album.
Evelina speaks about the birth of Šilainiai project idea, "I was photographing Šilainiai for about eight years and was putting the collected material into a pile. I would go for walks in the district, observe the environment and take pictures. Each year, when I would go to these walks, I would try to keep track of local developments. When the photographs built up and I exhibited them in university we started to discuss and view them critically. Something was missing, I felt that photography did not fully include communication; then I tried to use video, when the viewer is able to not only see the environment but also hear it and see the movement captured by the camera. However, that also was not enough - I felt imitation and distance.
"Then in 2012 I moved to sculpture and made the copies of children's slides from steel and sand boxes from concrete. Their originals can still be found in Šilainiai. The exhibition took place in London - the viewer was able to smell the works, touch them, in other words, experience them physically. However, something was still missing. I finally understood that it was the people that were missing and I came to a conclusion that I needed to get back."
I wanted to know what were the impressions and observations of the artists who stayed and worked in Šilainiai. Evelina Šimkutė disclosed several of them, "This year, Japanese artist Arata Mori visited for a couple of days. Šilainiai reminded him of his grandmother's home in Japan; gave him a sense of family coziness, warmth and return to the 80's. He was also struck by the district's vegetation - he was not expecting this much greenery. Australian Brooke Carlson spent a week here. She was stunned that the area had so much history. Each day she went to photograph various objects in the public space; she was drawing on the pavement and winding a thread on objects and herself. Francis Olvez-Wilshaw is a sculptor from England. He liked the random sculptures in Šilainiai. Artists The Lake Twins from the UK would like to return here. They liked the geometry and repetition and Šilainiai has plenty of it; they had gotten lost in the district a couple of times."