Love for the rhythm and dance 0
Justina Paltanavičiūtė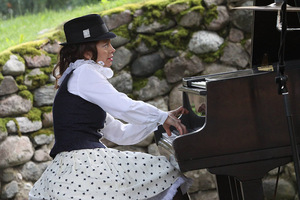 In brief: I got Rhythm is the name of the famous Gershwin song from the musical Girl Crazy. True, the musical itself is not widely known, but the song became popular and later even became a jazz standard. A similar name was given to one of the Pažaislis Music Festival concerts that took place at the Kaunas Botanical Gardens on the 24th of July. The concert was given by Guoda Gedvilaitė and ensemble Giunter Percussion (Pavelas Giunteris, Tomas Kulikauskas, Sigitas Gailius).
The artists are very different but as they all say they were brought together by music and rhythm, not by Gershwin. The name of the concert I got Rhythm. I love Rhythm! comes from the love for rhythm, not for the love of musicals or Gershwin. And yet, Gershwin was still there - his famous song I got Rhythm started the concert. It continued with the Spanish, tango and other Latin American rhythms. And it goes without saying, because all the instruments were percussion.
It is noteworthy that this summer Pažaislis Music Festival is rich with southern motifs. However, this concert was a bit different. First of all, the program was not tied to a particular music style - we heard tango, samba, habanera, flamenco and jazz intonations. Secondly, all the works come from the classical music world or they are at least fully recorded, despite being rich with folklore motifs.
The only lady of the evening, G. Gedvilaitė, could be easily called the star of the concert I got Rhythm. I love Rhythm. She captivated the audience not only with her charming smile and different amazing outfits that she kept changing, but also because she played percussion. However, the biggest surprise was to see her dance - G. Gedvilaitė is known to many as a great pianist, but probably a few know of her passion for Latin American dances. This time she showcased her flamenco skills.