Jan Bulhak and his Vilnius 2
Astijus Krauleidis-Vermontas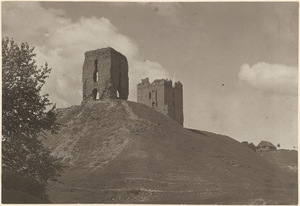 Photography exhibition Jan Bulhak: photograph with your heart! was opened at the National M. K. Čiurionis Art Museum in September. The curator of the exhibition Aidas Kulbokas spoke more about the exhibition and J. Bulhak's personality. In addition to speaking about the photographer's heritage stored at the National M. K. Čiurionis Art Museum the curator agreed to contemplate on the city of Vilnius the way it was back then and how it is now.
It is known that the artist spent most of this life in Vilnius, even though he was born near Navahrudak. J. Bulhak started photographing when his wife gave him a camera as a present. From the first attempts he took an active interest in photography; he studied photography in Dresden with Hugo Erfurth. Later, he founded photo studios in Vilnius and Warsaw. J. Bulhak moved to Vilnius and started photographing the city and its architecture in 1912.
The photographer made a very large contribution to the iconography of old Vilnius - he was photographing the city from 1912 up until 1944. J. Bulhak did a huge job, because, among other photographers he was the only one who captured Vilnius of the time most comprehensively - its panoramas, streets, squares, buildings and architectural details.
J. Bulhak's legacy is also important because he was the pioneer of art photography. By taking part in exhibitions, writing articles, books and giving lectures at the university, he always sought photography to be recognized as professional art.
In fact, while working at the university, J. Bulhak got involved in the monument protection work. He had to photograph many cultural monuments, for scholarly and educational purposes. Photographer, with teachers and students traveled to expeditions to various historical places of Lithuania and photographed manors, churches and their interior and village wooden architecture for monument inventory and registration.
Certain images and objects of the city, captured by J. Bulhak attract the attention of today's professional photographers. Therefore, I have no doubt that Vilnius could have inspired artist's work. Wandering the streets of the Old Town, getting to know the architecture, history and natural features, the photographer fell in love with the city, as he said, "I left my heart in Vilnius forever."
The exhibition Jan Bulhak: photograph with your heart! will be running at the National M. K. Čiurlionis Art Museum (V. Putvinskio St. 55, Kaunas) until the 27th of November.