Art photographer Algimantas Aleksandravičius: "I am the thief of souls" 2
Interlocutor Vidmantas Kiaušas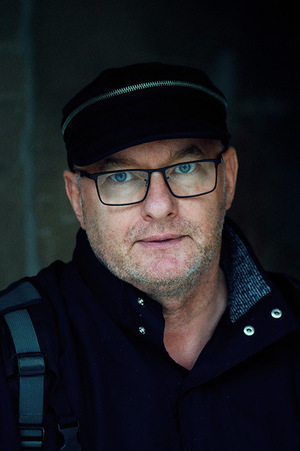 In brief: The art photographer Algimantas Aleksandravičius is interviewed after viewing his newest exhibition "From Fado to…" (Vilnius, Prospekto gallery), in which faces of famous Lithuanian people and photo shots of various European cities may be seen. He was earlier announced the best portraitist of Europe (2003) and Baltic States (2011). In the interview the artist speaks about the creation of portraits, variety of his photographs, tendencies and change of photography today.
"I have many ploys in mind when making photographs of people. It is the most easy to find contact with writers. I love to prepare my homework. I do not let people get bored – I play, improvise, may sometimes shock people. If I had to make my own portrait, I would also give myself five minutes to think before the meeting with God," the photographer reveals his tricks while creating portraits.
"When I started attending the photographers' club in Panevėžys at the age of 28, I was told that a good master had to know how to photograph nudes, landscapes, portraits, reportages and how to create a montage. I started with nudes, and portraits attracted me much later. It is very hard to work face-to-face. I speak a lot but often I don't hear answers. A doctor diagnoses a disease and treats a person and I am the thief of souls – I have to take the real emotion from the inside of a person," the photographer states.
In 2010 A.Aleksandravičius presented the exhibition "Reflections of the Grand Duchy of Lithuania", which is a series of cultural heritage objects. The artist travelled 6700 kilometres in search of views, he found 58 castles from which 12 or 15 did not belong to the Grand Duchy of Lithuania. Later he started the series "Samogitia – with Love". The artist states that he has the layout of the album called "Žemaitėjė – mona meilė" already. It will be a scientific and artistic work. Essays for it were written by the photographer himself.
Last year an expensive album of small number of copies "Silent Night" about the creation of the erotic film of the same title was published. During the conversation the photographer shows a small book "Images para nada" in which photographs from the series "Stories of Cafes of a Small Town" are published. Therefore, the photographer admits that he still photographs nudes.
As for the tendencies of contemporary photography, the artist observes that text and thought predominates in conceptual photography of today, while everything else is "shit". Young people often do not know much about photography and copy old things. "They teach many things at high schools but not to be oneself," the artist regrets.
The artist is given the last question: what would he do if he lost all the cameras some time in life? A.Aleksandravičius does not get lost: "Would I have paper? I would write then. Essays rather than historical articles or art criticism."