MUSIC IN DANCE PERFORMANCES – NECESSITY OR ADVANTAGE? 0
Justina Paltanavičiūtė
Impressions from the 21st International Dance Festival Aura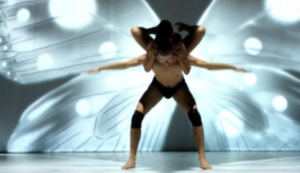 In brief: Dance and music have been connected since the ancient times. Rhythmic body movements (dance) are related to music more than anything else. However, the dance has acquired new meaning in the time of conceptualism and postmodernism. So what is contemporary dance and what is its relation with music? Is music still a satellite of dance? Can dance exist separately? These questions were raised by the International Contemporary Dance Festival Aura that took place on the 21-25 of September and presented a wide range of dance performances.
Obviously, there is some subordination between dance and music. No performance of the festival could do without music. Nevertheless, dance did not necessarily reflect music and sometimes music was interpreted as the part of the acting rather than movement, or just as an independent process, parallel to dance.
In the performance "Instrument 1" by Italian troupe Compagnia Zappalà Danza, the man's body became an instrument and everything was concentrated on it. Live music was also important – Puccio Castrogiovanni played the Jew's-harp dynamically and rhythmically. The performance reflected a conceptual relationship between music and dance, rather than just their traditional synthesis.
Music was approached differently in the performance "Testament of Optimist" by Polish Harakiri Farmers. Interestingly, not only records but also the live music sounded, performed by dancers-actors themselves: they sang and played the guitar, synthesizer and drums. These musical inclusions accentuated the absurd and sarcasm of the performance. "Testament of Optimist" reminded of the drama play with valid music and dance that functioned separately as parts of the performance.
Dance and music were tried to be combined highly conceptually in the performance "Prayers of a Silly Girl" by Lithuanian dance troupe Žuvies Akis. Honestly, dance remained to be just a concept in this performance. Many elements were used gratuitously and its choreography looked like a warming-up before the acting.
"Tao Te" by Hungarian creators Ferenc Fehéri and Ákos Dózsa must be the only performance that brought dance to the fore. "Tao Te" managed to avoid academism – the influence of street dance and Eastern martial arts were noticeable. That is why the performance was so amazing – two likable Hungarians demonstrated interesting combinations of various dances without any postmodern conception. The music of "Tao Te" served the dance without raising any ambiguous thoughts.
One of the most interesting, extraordinary and spectacular performances of Aura Festival was "Animal Lost" by Israeli Yossi Berg and Oded Graf. Stereotypes, clichés and cultural differences were questioned in the work. "Animal Lost" is the character lost in a human being who is trying to discover one's identity. Music was subsidiary in this case and served to illustrate certain ideas.
In conclusion, contemporary dance is becoming independent of music. All the performances were very different in terms of dance technique, style and concept but the majority focused on movements only, while the music existed separately, supplementing the dance rather than co-existing with it. However, a lot of attention was paid to music. E.g. composer Antanas Jasenka created music exclusively for the Aura Dance Theatre's performance "Medeas" and the vocal part of Medea was performed by soprano Skaidra Jančaitė. The fact of live music in several performances was also delightful.