Starting with wedding based on calculation, ending with sharing of legacy 6
Rima Jūraitė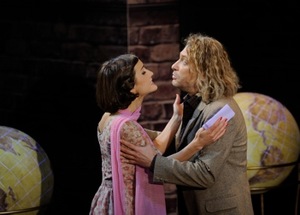 In brief: Comic opera is considered by the author of the article to be one of the most tricky genres of the musical theatre that sets big challenges to the director. She saw a number of sad stagings of "merry operas" in Lithuania and abroad during the last decade.
Kaunas State Musical Theatre started this season with two premieres of one-act comic operas: "The Marriage Bill" of Gioachino Rossini and the last part of the triptych of Giacomo Puccini's operas "Gianni Schicchi" (the triptych is also formed of "Il tabarro" ("The Coat") and "Suor Angelica" ("Sister Angelica").
Although Puccini demanded that the triptych would not be divided and all three operas would be shown on the same evening, his wish is disregarded by many theatres for a long time already. The director Nerijus Petrokas formed a new diptych from the works of Rossini and Puccini, even though the birth of these two operas differs by more than one hundred years. Still, their juxtaposition on one evening seems very logical as regards the plot: the unfavourable will becomes the cause of events in "Gianni Schicchi", and events in "The Marriage Bill" are influenced by the unfortunate bill which is rewritten and which ruins the plans of all characters. The author dedicates the article to the analysis of these two comic operas.
She concludes that the rejoicing fact is that the repertoire of Kaunas State Musical Theatre replenishes with new stagings of operas every year. Still, these two operas in particular, "The Marriage Bill" and "Gianni Schicchi", provoke a twofold evaluation: it is plausible that the different performances were combined into a diptych and that the inspiration for the director's ideas was searched for in very different musical language of these composers. However, the performances of the director Nerijus Petrokas leave an impression of roughness. Too much attention is given to trivial details, all turns of the plot become equally important, and soloists who do not only perform situations but also make some useless actions bring more confusion in the performances.
Therefore, the forgotten truth should be remembered most probably: one should be in a comedy rather than act it.