What is stronger than black? 3
Akvilė Rėklaitytė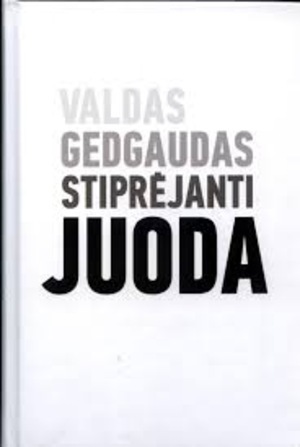 In brief: The selection of poems of Valdas Gedgaudas "Stiprėjanti Juoda" (Black Getting Stronger, Homo Liber, 2013) is reviewed in the article. The author was encouraged to find the book of V. Gedgaudas due to its juvenile and sentimental title. Is there nothing stronger than black when you are 51 years of age?
According to the author, the book is an integral selection of poems loyal to its title, but the poems are hard to read. One could speak about it like about modern compositions of depressed Lithuanian composers in the broadcast Classics of the Lithuanian Radio. The reader notices "uneven" words which form the relief of Gedgaudas poetry. The festering poetry, the voice of the Hero from the darkness getting stronger makes the reader think that the poet offended the manifest of the group "Strangers" and "joined" with life.
The group "Strangers" was formed by the authors of the almanac of the same title Dainius Dirgėla, Valdas Gedgaudas, Evaldas Ignatavičius, Alvydas Šlepikas, Donatas Valančiauskas in 1994. Their aim was to distance from the word "life". These poets tried to deny heroism, author's intention, and the openness of the art work was defended.