Portraits of artists in memoirs 0
Vilija Virkutytė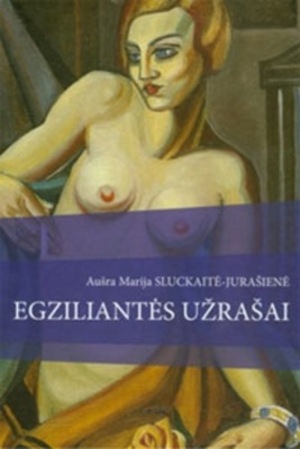 In brief: Memoirs are among the most popular literature genres of the last decade. Usually memoirs are written by artists, writers, public activists and politicians, famous people. Still, some memoirs appeared in Lithuanian literature the authors of which, writers and artists, concentrate not on themselves but on other personalities. The most vivid examples of such memoirs are "Egziliantės užrašai" ("Notes of Woman in Exile") by Aušra Marija Sluckaitė-Jurašienė (2008) and "Nutolę balsai" ("Distant Voices") of Audronė Girdzijauskaitė (2011).
Memoirs are traditionally divided into traditional (documentary and literary) and transformations of this genre (autobiographic memoirs, sketches of memoirs, memoirs and essays, combinations of memoirs and diaries). The popularity of the synthesis of genres increases lately, and it is typical of memoirs of A. M. Sluckaitė-Jurašienė and A. Girdzijauskaitė too.
Memoirs of these authors are close to fiction. Emotional rather than actual memory is much more important here. The emotional memory reveals the characteristic details of artists' portraits.
In her book of (auto)biographical short stories, fragments of memories, essays and miniatures "Notes of Woman in Exile" A. M. Sluckaitė-Jurašienė tells about people she met at different times and in different countries: Judita Vaičiūnaitė, Bronys Savukynas, Marija Gimbutienė, Dalia Tamulevičiūtė, Aleksandra Kašubienė, Vincas Kisarauskas. According to A. M. Sluckaitė-Jurašienė, she attempted to restore the impression, signs of time, to capture features of a personality and to save valuable things from the flow of time.
In the book "Distant Voices" A. Girdzijauskaitė shares memories about people met in her life in various circumstances. These are actors, painters, writers, or passers-by. The genres of essay, short story and memoirs intertwine in the portraits. The author also emphasises the importance of emotional memory. In the book the reader may get acquainted closer with such colourful personalities as Monika Mironaitė, Kazimiera Kymantaitė, Liudas Truikys, Vytautas Kalinauskas, Algimantas Masiulis, Bronys Savukynas, Vega Vaičiūnaitė, Andrejus Volkonskis and many others. Out of 26 famous Lithuanian people mentioned in the book, only the poet Vytautas Bložė and artist Juzefa Čeičytė are still alive.