The great Dane retreats, or in search of lost orgasm 0
Austėja Banytė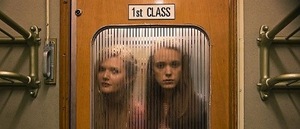 In brief: Lars von Trier was baptised "the Great Dane" by cinema critics and admirers not in vain. He is really head and shoulders above the majority of directors of his generation by his creativity and originally. He earned the title by combining tragedy and comedy in his works, later he also started interbreeding film genres perfectly too. It seemed that the director was an absolute genius whose creative results contained unforgettable pearls: the tragicomic "Idiots", the melodramatic and genially banal musical "Dancer in the Dark", astoundingly original "American Trilogy" (which ended up in two films "Dogville" and "Manderlay") and finally the so-called "Trilogy of Depression", which is crowned by two parts of "Nymphomaniac".
"Antichrist", which started the trilogy, startled the author and caused a number of unpleasant emotions; still, it enabled one to look at Lars von Trier as an emeritus odd man, the great Danish alchemist. The author became worried after "Melancholia" – something was wrong. The never repeating Lars started retreated in her eyes. It seemed that he created the film due to the fact that he had nothing else to do. Blaming depression from which the director suffered at the time, the author of the article waited for "Nymphomaniac" hoping that the author would right himself in her eyes.
Still, after analysing the plot, characters and construction of the film, the author concludes that the ones who anticipate aesthetic or touching erotic scenes from the film will be frustrated – there are many of such scenes but they do not make one laugh, do not cause emotion or aesthetic admiration. Instead they make the viewer feel like in a surprising nightmare. If one decides to watch the film, he/she should anticipate a meeting with Lars von Trier himself and his problems. Joe, the main character of the film, performs the director himself, in the author's opinion. Von Trier has always been doing what he wanted: created unconventional art shocking people as if he would not be able to live without it. Lars von Trier, like the nymphomaniac Joe, who is a sex addict, is the addict of his creative work. The lost orgasm of Joe, the strange ways of searching for it and trying to recover it, testify about the crisis of creation (or perhaps live) of von Trier and the search for new inspiration.