Recreating photography: viewpoint of Gintautas Trimakas 0
Tomas Pabedinskas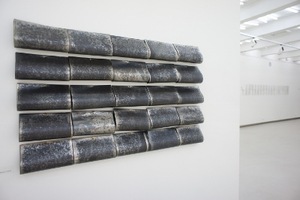 In brief: Kaunas Photography Gallery let in art which stepped outside borders of photography into its exposition space again. This time the programme of more traditional exhibitions was broken by the exhibition of Gintautas Trimakas "Silver Point Number (Meetings)".
Previous presentations of "different" photography at Kaunas Photography Gallery arose discussions of photographers and viewers most probably, which did not gain the public form. However, different attitudes towards photography do not disappear anywhere, and more outstanding events of Lithuanian photography, to which the exhibition of G. Trimakas may be attributed, bring up questions about the actuality and comprehensibility to the viewer discussed a number of times anew.
It seems that the main answers are given in the abstract of the exhibition – G. Trimakas is presented as an artist who uses photography rather than a photographer here. Still, the first impression of clarity is misleading. The works of G. Trimakas are not close to well-known examples of history of photography which mark the turn of photography towards contemporary art or to works of contemporary Lithuanian artists. Other aspects are significant to the artist: he experiments with the very nature of photography in his works, performs a kind of "creative research", which is related with introspection and philosophical insights rather than with the reflection of popular culture or contexts of daily life.
Such works make people discuss about the essential issues of creation and understanding of the world. After refusing the common attitude to creative photography and image in general, G. Trimakas has been creating not only particular works but also an original concept of art, in which art works gain meaning.