"Stencil" of Kaunas War Hospital in context of Europe 0
Eglė Aleknaitė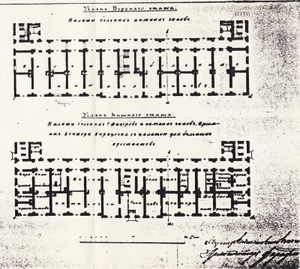 In brief: Wars among countries, nations and organizations that lasted for many centuries contributed to the development of architecture. Buildings of various purposes were needed by military institutions. War hospitals carried out one of the main functions. Not many military buildings stand out by the harmony of engineering construction and art. However, war hospitals are among such few buildings.
War hospitals and other buildings of special purposes were constructed in Europe from the middle of the 18th century. In Lithuania such constructions started at the beginning of the 19th century, i.e. later than in Europe. Constant wars with the neighbouring Russia and later the invasion of Napoleon determined the later development of this military architecture. Not many permanent war hospitals were constructed in the 19th century. Permanent war hospitals are divided into separate buildings, hospitals in military quarters, hospitals of pavilion and complex type in Lithuania.
The only war hospital of complex type was built in Kaunas in Lithuania in the middle of the 19th century. The complex of this hospital appeared in the period of the Russian rule and stands out by the architectural style of the historical period, which was typical of the majority of European war hospitals. The building functions as a health treatment institution until today.
The architectural analysis of the war hospital in Kaunas is presented in the article along with schemes and historical photographs. The building is compared to the structure of other buildings of war hospitals, such as Lariboisiere War Hospital in Paris, Herbert War Hospital in England, Beelitz War Hospital-Sanatorium in Germany.