Odyssey of love to ceramics. Story of ceramicist Aldona Keturakienė 1
Kristina Budrytė-Genevičė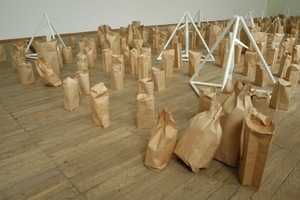 In brief: The recently interviewed ceramicist Prof. Aldona Keturakienė (b. 1945) may tell many memorable stories, which are met in literature more often than in real life, from any period of her life. As the artist told her biography coherently (from adventures at Ukmergė kindergarten, secondary school, family and starting to live on one's own to independent choice of education and studies at various Lithuanian art institutions), in the article the entire period of younth and creative searches of the artist (in the period of 1961–1973) is reviewed.
The artist tells that her interest in ceramics appeared in childhood years already. Although her parents planned a different future for Aldona and wanted her to become a tailor, after graduating from school the artist decided to study at Telšiai Art Technical School. After five years of studies she continued studies in other cities, met different personalities and learned from them.
Later the artist succeeded to enter Vilnius State Art Institute, lived at her brother's flat and was supported by him during the studies. In the institute the artist met lecturers whom she did not forget for the entire life: Prof. ceramicist Liudvikas Strolis and art historian Vladas Drėma. Aldona remembers these years as perfection of specialty skills as well as becoming part of the academic world.
After one year of studies in Vilnius, the ceramicist was transferred to the evening Department of Ceramics of the Art Institute in Kaunas. The artist praises her Kaunas teachers too: Stasys Ušinskas, Liudas Truikys, Klemensas Čerbulėnas, sculptor Jadvyga Mozūraitė–Klemkienė, Prof. Jonas Mikėnas. "All of them left a big impression as wonderful artists, competent specialists and extraordinary personalities," the artist remembers.
It was offered to Aldona Keturakienė to enter the Artists' Association after graduation from studies and a period of creative work, and she became a member of it in 1978 and started participating in group exhibitions frequently. It was seldom that a representative of applied arts could organise a solo exhibition then, and such conditions were created only before accepting an artist into the Artists' Association. Therefore, the creative exhibition life of Aldona Keturakienė may be divided into two parts: the period of group exhibitions in soviet years and the road of a free artist after the restoration of independence of Lithuania.
She has been surprising by her solo shows for two decades already now. Frequently these are installations, in which the change of thought and material prevail and in which novelties are integrated with classical techniques of ceramics.
The youthful curiosity and human duality remains in her creative work, which offers to the viewer to decide on his own and discover important things. This may also be noticed in the present installation of Aldona "For Pure Soul" open at the Ceramics Museum (Rotušės Sq. 15, Kaunas) at the moment.
Project "Story of an Artist and Stages of Soviet Years in Lithuania"