Artist V. Tamoševičiūtė: "Performance Happens Here and Now" 3
Interview by Aušra Blinstrubaitė-Vasiliauskienė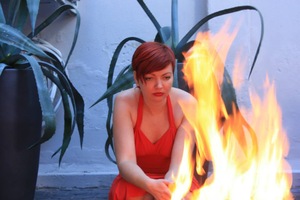 In brief: Interview with one of the brains behind Kaunas festival "CREATurE Live Art" (May 29–June 1, performance art studies May 20–June 2) – performance artist Vaida Tamoševičiūtė. Vaida and Aušra talk about festival participants, schools of performance and interesting Lithuanian and foreign performance artists.
This year the festival collaborates with PAS ("Performance Art Studies") and prof. BBB Johannes Deimling (Germany). Rather than a creative workshop, it's an independent educational program which involves theory, physical preparation, development of ideas and final presentation to the public.
Starting with next year V. Tamoševičiūtė will be teaching performance at Kaunas Faculty of Arts.