Graphic artist Greta Grendaitė: to be a good egoist 0
Prepared by Dovilė Stirbytė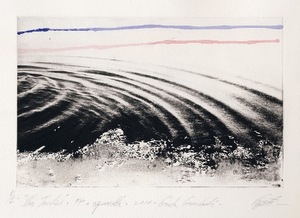 In brief: Even though Greta Grendaitė usually works with graphic techniques, the artist often chooses means of other visual art forms. Interests of the artist are reflected by the variety of disciplines taught by her at Vilnius Academy of Arts, Kaunas Faculty, as well as the interest in the wider field of art (G.Grendaitė completed Master studies of art history and criticism after Bachelor studies of graphic arts).
The artist does not strive to create an integral style; her methods of creative expression are naturally determined by ideas that are born from various contexts actual in the present-day world which are important to the artist.
G. Grendaitė is concerned about aspects of time and space, concepts of event and paradox, practice based on cooperation and interaction not only in creation but also in life. She frequently uses texts borrowed from various sources in her works, and they participate as equivalent components in the works: they coexist together and serve for the comprehensive disclosure of the idea.
The artist who has visited a big number of the world has found things close to her in the Japanese culture. In the interview the artist speaks about Japanese experiences, exhibitions and ideas, freedom and events.
After sharing her impressions and telling about inspirations received in Japan, the artist Greta Grendaitė is asked about her exhibitions which are frequently organised in company with some other artists. She tells about the new joint project "Voyage" implemented with the British artist. She sees meaning in the process of cooperation with artists as richer experiences are gained, and the mutual development is more intensive in this way. "It is a possibility to try out yourself, to compare with the hermetic and individual work, when you state yourself as the only of the kind and consider your road to be the only "correct" road," the artist reveals.
Greta is also asked about games with texts in her graphic art works. "I play with the relation of text and view, which is paradoxical rather than illustrating. It happens that the view may disappear and the text remains the only detail in the artwork. Later pictures return and they are tickled with text again." The artist takes texts from the surroundings or from events, songs, mass media, advertisements. Sometimes she cuts and glues collages or creates the needed text.
Speaking about the series "War Tactics", the artist states that the idea of the series has been forming in the head for a rather long time, out of personal experiences some of which were related with the particular historical events of January 13 in Lithuania or September 11 in the USA. She also thought about the hidden forms of war in the daily life of a human being.
In the conversation the artist also tells about her recent exhibitions and ideas presented in them, reveals how they were organised and how the audience accepted them.
Project "Meetings in Artists' Studios"
Photos from personal archive of G. Grendaitė