Optical bones. Conversation with glass artist Artūras Rimkevičius 0
Ieva Vidutytė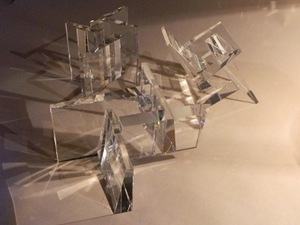 In brief: The exhibition "Vitrum Balticum VI. Optical Outlook" open at the National M.K. Čiurlionis Art Gallery and Aukso Pjūvis gallery takes place in Kaunas for the sixth time already. It is an international glass art event organised as a triennial. This year 62 glass artists from Lithuania and other countries of the world participate in it.
Both renowned and young glass artists present their newest works in the exhibition Vitrum Balticum of this year. One of the artists is the well-known artist, lecturer of Kaunas College, J. Vienožinskis Art Faculty Artūras Rimkevičius. This year he presented a rather unusual work "Death-Birth". It is a work of transparent optical glass (real optical glass is a very expensive material). The techniques of cold processing – glass polishing and cutting have been chosen for this work. The interview with the glass artist is about his work, exhibition Vitrum Balticum and its historical context.
The artist has participated in all six exhibitions Vitrum Balticum and he tells he is ill with glass. Therefore, this exhibition is like a festival of glass, artistic communication and creative impulses for him.
Speaking about his work "Death-Birth", Artūras Rimkevičius states he was inspired by the bones of a dead cat, the structure of which may be seen in his work. In general, the idea of optics is very close to the artist and he tries to create a purified art work as concerns its form. "I love minimalistic art, minimalism of the Far East, geometrical forms, themes of nature and the sea. Sculpture and glass art replenish each other in my works," the artist reveals.
As for the exhibition itself, the artist emphasises that it has developed a lot. The exhibition has become known and has turned more multi-sided. Interesting conceptual mottos and seminars have appeared. Artists employ new technologies, more foreign artists participate in the selection of works and come to the event.