"Vitrum Balticum VI. Optical Outlook" – optical manipulations of glass art 0
Evelina Januškaitė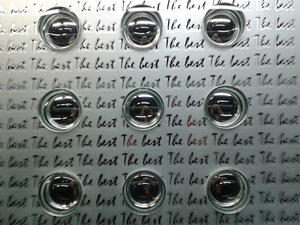 In brief: The international exhibition of original glass art "Vitrum Balticum VI" of this year met visitors with the slogan "Optical Outlook". The exhibition is organised since 2000 every three years. The main glass exhibition was organised in two halls in 2014: at Aukso Pjūvis gallery and at the National M. K. Čiurlionis Art Museum, where it will be displayed until September.
The exposition of "Vitrum Balticum VI. Optical Outlook" revealed the dual interpretation of the idea of the exhibition: the first emphasises its semantic meaning, the visualisation of the attitude as certain perspective of understanding, while the second one pays attention to the physical qualities of glass related with the creation of illusion and optics. Glass art often highlights the optical feature of this material, the possibility to create unexpected illusions which mislead the conscience of the viewer and which disorient one in the surroundings. Glass polished technically and in high quality reflects as a mirror grounding the symbolical aspect of glass art in this way – the reflection as reaction to the surrounding environment.
One more landmark of interpretation which became prominent in the exhibition "Vitrum Balticum VI. Optical Outlook" is the emphasis to the visual side of an artwork. And the visual meaning of an artwork is impossible without the viewer's look – eyesight acts as the most important catalyser of realisation.
The dual meaning and destabilisation of understanding is felt in the work of Eglė Rakauskaitė "Spectrum" (2014). Optical illusion becomes part of understanding of reality in the work "Illusion" (2009–2013) of the Estonian artist Ivo Lill. The work of Vilma Magelinskaitė "Individualists" (2013) emphasises how the view changes when looking through an optical glass.
Paulius Rainys chooses spherical optical glass in a rich frame for his work "The point is…" (2014) – in this way the artist questions the attitude to an artwork, its dependence from the viewer's understanding is accentuated. Audronė Andrulevičienė in her work "Dream" (2014) also uses the glass of a lens form, which changes the trajectory of the look. Valmantas Gutauskas combines text and transparent lenses integrated among words in his work "The Best" (2014). The Austrian artist Verena Schatz with her work "Alterego" (2013) speaks about the self-realisation of a person through one's reflection.
"Vitrum Balticum VI. Optical Outlook" charms by exceptional aesthetics, clean forms, purified visual expression of artworks and technical quality. These features may be seen in works of the Czech artist Ondrej Novotnyj, Latvian artist Marta Gibietė or Estonian Eeva Kasper. Fragile internal "inclusions" (drops of glass) gleam in the transparent work of the British artist Nancy Sutcliffe. The artists transform the view turning it into an illusion and create the reality filled with unexpected glass effects.