Italy in life of Lithuanian painters 1
Marius Vyšniauskas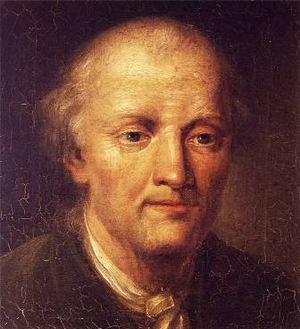 In brief: When we speak about painting in Lithuania, first of all we mention Mikalojus Konstantinas Čiurlionis (1875 – 1911) and forget that the genesis of our art is much older and more colourful. Interesting stories may be found while making researches that may equal to the world history of art. Some Lithuanian painters are known not only in Lithuania but in the world too, they had a chance to "touch" the heritage of the great artists. And all of them are united by the cradle of art Italy.
Many Italian masters worked in churches of Lithuania. Lithuanians lived surrounded by the Italian spirit. Meanwhile, what did Lithuanians do in the hearth of art and culture themselves?
The Lithuanian painter Simonas Čechavičius (1689 – 1775), according to V. Drėma, represents the Italian eclecticism, he mastered the drawing and composition well. His paintings were exceptionally religious and sentimental typically to the 18th century, with graceful and dreamy heads of madonnas and saints. S. Čechavičius spent thirty years in Rome, where he studied in St. Lucas Academy of Arts (founded in 1577) in the class of the late Baroque painter Carlo Maratta (1625 – 1713) and was awarded several times.
Differently from S. Čechavičius, the life of Pranciškus Smuglevičius (1745 – 1807) in Italy was documented. Grown in the family of painters, the young artist was sent to St. Lucas Academy (entered it in 1765) for studies. According to the sources, he studied along with the famous painter and participant of the French revolution Jacques Louis David (1748 – 1825). The Lithuanian artist P.Smuglevičius won prizes in competitions in Rome several times, he was supported by the treasury of the Grand Duchy of Lithuania. It is mentioned that he was the most serious stipendiary of the king who proved his talent in frequent orders of the palace.
Unfortunately, not all artist could perfect their skills in Italy. The famous sculptor and pupil of P. Smuglevičius Kazimieras Jelskis (1782 – 1867) could not go abroad although he received high evaluations in Lithuania.
One more artist, who is barely known in Lithuania as no monograph has been published about him, apart from several articles of V. Drėma, and as all of his paintings are gone, is Jonas Trojanauskas (1799 – 1878), who learned secrets of art in Italy. As it is written in sources, the artist went abroad in 1821. In 1822 he moved to Rome at K. Ruseckas' advice, where he attended studies of neoclassicism and painter of historical genre Vincenzo Camuccini (1773 – 1844).
Other artists who studied in Italy, in addition to the aforementioned ones, were Alfredas Römeris (1832 – 1897), Albertas Žametas (1821 – 1876), architect Karolis Podčašinskis (1790 – 1860), and others. They gained knowledge and became stronger spiritually in Italy after coming from the Russian Empire.
The same feeling was experienced by Kanutas Ruseckas (1800 – 1860) and his son Boleslovas (1824 – 1913). The artistic life of K. Ruseckas, his philosophical thoughts catch attention of researchers of Lithuanian art. He may be compared to J. A. D. Ingres, especially having in mind that they both lived in Italy and studied in the same institutions.
K. Ruseckas arrived in Italy from France at his friends' advice in 1822. He entered Villa Médicis Academy. 20 studio paintings from the Rome period of the artist with the pictured male nudes are stored in the collections of the Lithuanian Museum of Art. There is no information how long the artist studied in the academy but the very fact proves that K. Ruseckas does not give in to Italians or Frenchmen. Today we may also see a huge collection of Italian landscapes of K.Ruseckas at the Lithuanian Museum of Art, another part is stored in Warsaw and Krakow museums. In addition to painting, the artist was also interested in sculpture, although no works have survived.
The son of K.Ruseckas, Boleslovas, followed in his father's footsteps. Born in Rome in 1824, he returned to this city in 1857 as an artist with a diploma. As his father, he spent the most of his time visiting Capitolium, Vatican and other museums in Rome, studying and copying masterpieces. He was charmed by the Spanish Baroque painter Bartolomé Esteban Murillo (1617 – 1682) famous for realistic street scenes the most.
Thus, Italy used to touch and still touches hearts of all people. It is hard to find a person indifferent about this country. As the heritage of Lithuanian artists in this country has not been studied thoroughly yet, these layers hide many secrets. As we read about the life and creative work of these painters, the thought comes up whether we name the right artists as the ones worthy to wear the crown.