Raimondas Gailiūnas: "One's relation with the world may be presented only subjectively" 0
Kristina Budrytė-Genevičė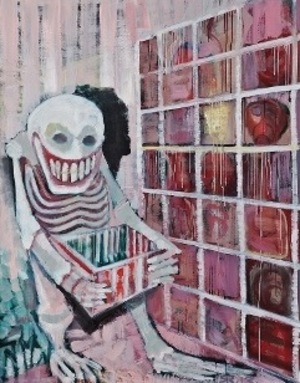 In brief: April 25 of this year was very intensive to the painter Raimondas Gailiūnas (b. 1956). Used to his daily rhythm (painting in studio, family, work at art school), the artist who lives in Rokiškis presented all his works in three important events in half a day. The film about the painter created by Enrika Striogaitė premiered at M. Žilinskas Art Gallery, the album of works of Raimondas "Open Window" was presented and the representational exhibition of creation of three decades was opened at Kaunas Picture Gallery. All three events were organised by Kaunas Modern Art Fund.
Raimondas presents his present paintings simply and emphasises the importance of subjectivity: "I tell stories about the surrounding world, how I understand it and how I see it. I cannot tell stories objectively and do not imagine that this could be done, it is a myth. One's relation with the world may be presented only subjectively."
Similarly, Enrika Striogaitė (director of the film "Unsure Security", 2014) tried to reveal the stories of the artist living in Rokiškis and tell about the fact that "something was not well with the world". She emphasised a number of times that: "it is not only a documentary about an artist: on the basis of paintings and reflections of the artist, the film speaks about the world, its fall, consumer culture, which is becoming scary and formidable...". Using the cinematographic means, the main attention is focused on things which the artist wants to tell by his works in the film.
Raimondas does not avoid interpretations while creating works too. In the exposition the viewer sees a great number of works created during several latter decades; however, the works of the years 2011–2014 predominate. When we look closer, great changes and jumps in paintings of Raimondas may be noticed: how elemental figures of present paintings and shapes and creatures of draconic looks emerge from earlier abstract and more harmonious colourful compositions.
The paintings of the artist are not dedicated to mass consumption, they do not harmonise the environment; still, they encourage to glance for a long time and see something on the surface hiding behind several layers of paint. It is not perfunctory art, instead it encourages to get to know life with fight, loyalty, prayer and concern about the man and the world.
Finally, it should be added that Raimondas Gailiūnas has exhibited his works only along with his colleagues at Kaunas Picture Gallery by now, in group exhibitions of Angis. Therefore, the visitors of the present exhibition should experience the feeling of discovery or novelty: we see the first solo show of the artist in Kaunas.
Photos by Rymantas Penkauskas