Translator G.Pulokas: "I Translate Only What is Interesting to Me" 0
Rūta Šetikaitė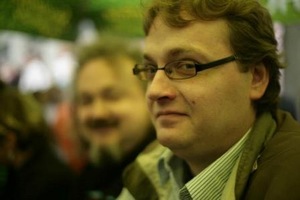 In brief: Buyers enjoying a recently published book of a foreign author do not usually pay attention to one of the most important persons who assisted in the publication of such a book – the translator. The interview with Gediminas Pulokas, who helps to discover more books of Russian and English-speaking writers, is about the invisible work of a translator.
According to G.Pulokas, he started translating for his own pleasure, from small texts that interested him in some way. "One lecturer offered to choose during the studies – to write an essay on some theme or to translate an article from English to Lithuanian. As the lecturer liked the translation, he encouraged me to continue doing it," the translator remembers. Little by little he got engaged in this activity and translated texts related with information technology mostly for some three or four years. Meanwhile, during his free time, A.Pulokas translated some texts of literature for himself, which were later published by Literatūra ir Menas or Šiaurės Atėnai magazines.
The translator is sure that one can learn to translate only while working, like in any other kind of work. He also emphasises that lecturers at the university and various friends, later editors of the first books translated by him (Saulius Repečka, Vitalija Pilipauskaitė, Ingrida Tatolytė) helped him to perfect his skills by their advice.
G.Pulokas offers texts to be translated himself, sometimes publishing houses offer some books. The translator works with both poetry and prose. He has translated poems of Ch.Bukowski and Harold Nors. According to him, the most complicated while doing a translation is to find the golden middle – to balance between literalism and mood, shades of impressions and the main thought.
The translation of "The Basketball Diaries" by Jim Carroll (Kitos Knygos publishing house) is considered to be one of the best translations made by G.Pulokas. The translator also believes that this is one of his best translations so far.
G.Pulokas also established his own publishing house Knygius. Still, the translator admits that the crisis that prevailed in Lithuania at the time the publishing house was established has prolonged more than he planned. The translator regrets that the books were not sold at sufficient rates (the publishing house started its activity with two books: "The Insanity Defence" by Woody Allen and "Soldiers of Afghanistan" by Mindaugas Milinis).
"By the way, the market of books is one of the few sectors which has been shrinking from the beginning of the crisis in Lithuania. The rates of books have decreased by half as compared with 2007, and the number of books published per year – by one third. Therefore, life is not a bed of roses for small as well as big publishers. I sincerely wonder how the publishing of books will look like in some 3 or 4 years in Lithuania," the translator ends the interview.