On Painting, August Evening and Other Motifs 3
Interlocutor Nomeda Repšytė
Conversation with the painter E.Balsiukaitė-Brazdžiūnienė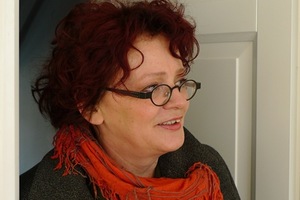 In brief: The painting exhibition of Kaunas artist Elena Balsiukaitė-Brazdžiūnienė was open in Kaunas, old Žaliakalnis quarter, on the Owls' Hill, at the Art School in April. The author and the curator, painter Arvydas Martinaitis formed the exhibition "Painting" from works of the earliest creative period. The collection of works created by the artist in 1991-1995 is displayed in Kaunas for the first time.
Elena (b. 1958, Žaliakalnis) graduated from Kaunas Art School (earlier – Steponas Žukas Applied Art Institute, now – Kaunas College Justinas Vienožinskis Art Faculty). From 1978 the artist studied at Vilnius Art Institute, from which she graduated one year later than her group mates. At the decision of the party nomenclature of the institute of that time Elena was crossed out from the list of students in 1988, when only three months were left to the defence of her diploma work. The "crime" of Elena was copying during the state examination of scientific (sic!) Marxism. Elena was given permission to complete the studies after a year (the supervisor of her diploma triptych "August" was Augustinas Savickas).
The end of studies of Elena and beginning of independent creative work coincided with the end of Soviet occupation and restoration of Lithuania's independence. It is not often that the great history makes such a gift: it granted new possibilities to dip into unlimited intensive searches and discoveries along with the end of studies. Elena did not have to paint singing tractors and Stachanov followers following ideologically restricted aesthetical norms. The painter also did not have to make compromises with herself trying to get satisfying but ideologically unacceptable state orders and later to try and prove that "we worked for Lithuania at that time too". After graduation the painter started working according to her own aesthetical schedule accepting free and independent artistic solutions.
The interview taken on the afternoon of April 20 in the exhibition "Painting" is about the beginning of independent creative road of Elena and the first years of the successful creative life almost 25 years ago.
Photos by Nomedas Repšytė