KAUNAS PUPPETS: AFTER SCROOGE OR TOWARDS THE SUN? 2
Konstantinas Borkovskis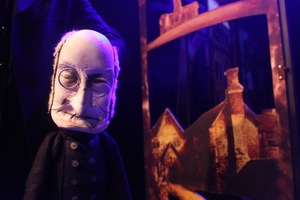 In brief: There are not many Lithuanian theatres that can boast of performances after which spectators hurry to inform others, "You and your children should see it!" Kaunas State Puppet Theatre has such a performance in its repertoire.
However, it is not the newest premiere of the theatre "Scrooge or the Day to Open One's Heart" staged according to the play of Daiva Čepauskaitė (director Arvydas Lebeliūnas, artist Sergėjus Bocullo). The statement about the performance that is a must should be related with the most impressive performance of Kaunas State Puppet Theatre presented last year "The Trip Towards the Sun".
This performance was created by the invited Russian puppet theatre director Boris Konstantinov along with the artist Viktor Antonov and composer Denis Shadrin. Why is this performance so special? It seems that the use of "the black box" is not a novelty in the puppet theatre. Nonetheless, the performance of Kaunas Puppet Theatre is really artistic, it has no infantilism so typical of performances for children, and it is really suitable for the mission to create the first good impression about theatre art to the little theatre goers.
The author does not try to state that the latter performance was "correct" and that the newest "Scrooge or the Day to Open One's Heart" is "incorrect" but he still asserts that the latter premiere is not a masterpiece of art and that it will not become some special landmark in the history of the theatre. The main value of this performance is the artistic puppets-mannequins. The main decoration of the performance – the turning miraculous wardrobe and the high-quality music provokes impressive views and catching moods.
Still, the feeling remains that the creators of the performance, who sensed many fruitful discoveries and perspective possibilities, did not implement them all and left much to pass by chute and to actors' professionalism.
Therefore, the theatre creators should not forget the tricks of the "device theatre" used in the performance "The Trip Towards the Sun" as the audience will never forget them after experiencing such tricks once.
Photos from the archive of Kaunas State Puppet Theatre