AMID SIMULACRA AND THE RIGHT TO BE 0
Silvija Čižaitė-Rudokienė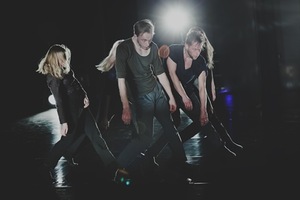 In brief: While the dance theatre Aura has the right to show its interpretation of the rebellion of 1863 or use this date as a pretext for the creative process, the spectators also have the right to dislike or boo something. In the background of rights and possibilities, the performance "1863" was shown on March 11. The work caused many disputes about the relation of contemporary art and history, possibilities of interpretations and horizon of the spectator. Perhaps it is the most valuable element of the performance – the encouragement of the audience to think.
Still, one could argue whether "1863" is really a masterpiece that illuminated the sky of Lithuania. The first part of the performance was educational – views about the unity of Lithuanian and Polish nation, rebellion of 1863 and its after-effects were presented in the video film. Dance was only integrated by the movement that was present in the film. In the dance block of the performance dancers moved according to the principle of tableau vivant ("live pictures"). One action was ended and only then a new was begun. Perhaps this kind of "frames" in the performance was the main link of it with the video film.
The date was only a pretext for the performance. Even though the minimalistic costumes of dancers made some hints to the military clothing, dance movements reminded of an internal fight. Men against women, men with women, women trying to survive.
Such interpretation of the historical date presented by the creators of the performance is one of the possibilities. The spectator is one of the forms of legitimation. Perhaps each spectator can interpret the fights taking place during the performance as well as history in his/her own way. Perhaps the unique language was not found. Still, don't we live in the times of simulacra?
Photos by Svetlana Batura