B.SARAPIENĖ: "IT IS IMPORTANT TO EXPERIMENT BUT IT IS NECESSARY TO PRESERVE TRADITIONS" 5
Dovilė Stirbytė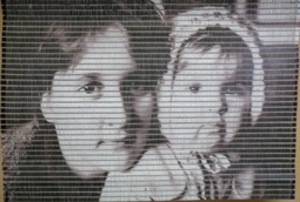 In brief: A member of the Lithuanian Artists' Association and Textile Artists and Painters' Guild, active participant of the textile group Esame, textile artist Birutė Sarapienė mastered the traditional tapestry technique first and started searching for new forms of creation from about 1997. She started experimenting, using diverse materials and techniques; nonetheless, she did not refuse traditional means of expression of textile.
B. Sarapienė is not only an active participant of exhibitions but also a docent of Kaunas College, Justinas Vienožinskis Faculty of Arts, head of the textile studio. Works of the artist were showcased in many group competitive exhibitions in Lithuania and abroad; her art has been evaluated by diplomas, awards and prizes.
In the interview the artist tells about the start of her creative road and her choice to create textile art. "I entered Vilnius Art Institute (present Vilnius Academy of Arts), Department of Textile and after graduation I started working at St. Žukas Art Technical School (present Kaunas College J. Vienožinskis Faculyt of Art)," the artist tells.
Talking about the beginning of experiments, B. Sarapienė remembers that in about 1997 she and her colleagues started thinking how to organise more diverse textile exhibitions, to encompass a larger context and organised the first international textile exhibition "Tradition and Today" at M. Žilinskas Gallery in 1997. It evolved to the present Kaunas Biennial.
"I created the spatial composition then – white net forms "Forms in Space. I, II". This work was the first sign of experiments with materials untypical of traditional textile, an attempt to create something new," the artist says. "I started using photography (digital print) only in 2009. Of course, I had to mature and learn to work with the computer. Work with students also encouraged the search of new materials and technologies".
The most important award granted to the artist B. Sarapienė is perhaps the Antonio Ratti award in the international Arte&Arte Mini Textile exhibition "Matrix of Nature" (Como, Italy). The famous Italian sculptor Nicola Salvatore created a mini monument for needles for this exhibition. B. Sarapienė was the awarded the prize, and this sculpture caused much trouble while transporting it home by plane from Milan.
Speaking about tradition and experiments, the artist tells that traditions are very dear to her and that she would not like them to disappear. "I believe experiments will end soon and we will return to classical things again. I love weaving tapestry, but there are no orders now. When the system changed, nobody wanted tapestries any more, everybody demanded something new and fresh…"
As for the textile group Esame, B. Sarapienė asserts that the group was formed in order to organise textile exhibitions showcased in Lithuania and abroad. It was an attempt to change the situation and to show textile works in international textile exhibitions, Kaunas Biennial for instance.
When asked about Kaunas culture and art life, present situation of Kaunas art and problems of Kaunas artists, the textile artist notices that artistic life is rather intense in Kaunas. "The textile biennial is worth much already; still, the vanishing of such traditional art fields as ceramics, textile, glass art, leather art is a really big problem. The last grandmothers will die and nobody will remember traditions. I would like them cherished so that the identity of our nation would be preserved."
Photos from the personal archive of Birutė Sarapienė
Works of the artist may be seen in the solo textile exhibition "Visions" open at Kaunas State Philharmonic Hall (L. Sapiegos Str. 5) until November 5.