GOD IN THE SETTING OF BLUES 1
Ugnė Kraulaidytė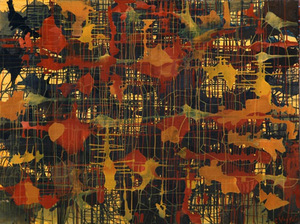 In brief: The painting and video art exhibition 'Before and After' by the artist Eugenijus Varkulevičius-Varkalis was opened at Šiauliai Art Gallery at the end of June. The show presents the periods of his life in New York and his later return to native Kaunas.
In New York (1994-2005) E. Varkulevičius made friends with Jonas Mekas, discovered the promised Western freedom, created experimental films and music and participated in exhibitions and happenings. He seemingly calmed down in Kaunas, started to observe the flow of the rivers Nemunas and Neris and brought these contemplations into large-scale abstractions.
The work of Varkalis changed dramatically after his journey to Berlin in 1990. The painter left his early painting based upon Christian iconography and religious subjects behind. Perhaps the most famous early works of E. Varkulevičius are series of 'Beržoras's Stations' (1983-87), 'Cross of Gintališkės' (1987), 'St. Trinity' (1983), 'Flowers for Mary' (1987-88), 'The Three Magi'(1986).
After graduating from Vilnius Institute of Art, the artist met the thinker Justinas Mikutis. He was a former deportee, poet, translator and mystic who appreciated the music of Bach, Mozart and Beethoven, Medieval architecture, paintings of Georges Rouault and the Holy Book.
E. Varkulevičius became interested in the old Stations of the Cross and religious art in Beržoras, St Bishop Stanislovas Church, on his trip there with J. Mikutis. Religious art and personal life were two correlating areas for E. Varkulevičius. While he lived in Beržoras, he would serve Mass and participate in feasts, surrounded by the sacred and authentic spirit of the Samogitian village.
When the artist moved to Germany, a new world was revealed to him. Everything was surprising – the people, their freedom and ways of communication. E. Varkulevičius found a gallery to represent him and so his first show abroad was organised and several pictures were bought.
The artist cared little about religious subjects back then. Democracy, beer, anarchism, punk rock – Germany had everything that was of shortage in Lithuania.
In New York Varkalis was fascinated by the ideas of Joseph Beuys and Jurgis Mačiūnas (George Maciunas). Friendship with J. Mekas pulled him into a completely different cultural life full of long conversations, music and films. E. Varkulevičius himself started to experiment with films and music.
In 2005 the artist came back home to Kaunas. A new period of abstractions began. Intuition is important to the author, as well as controlling the paint. Apparently, E. Varkulevičius tunes in to the environment surrounding him; to the moods floating in the air; to the culture and spirit of a place. The author turns colours and motifs of a Lithuanian landscape into a jazz improvisation of art. The leitmotif is landscape; the mood is lyrical and meditative; the association is infinity; and the expression is rivers and spots of paint put in precise compositions.
Finally the artist returns to the beginning: 'God may live in an ornament, a rose-window of a cathedral yet in a landscape as well. Water in a river, in christening, in a human being – it is all the same water.'
Photographs by the Aukso Pjūvis Gallery