ACTUAL THEATRE OF THE WHITE SHROUD 0
Silvija Čižaitė-Rudokienė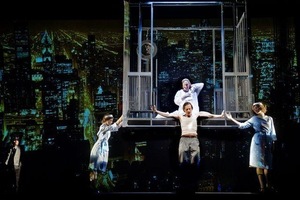 In brief: We live at the so-called modern age, when the aim to have equals to the aim to be. What should a man, who feels imprisoned by the rhythm "up-down", do in such a world, when achievements of today, no matter how big they are, are forgotten tomorrow, at the time of short memory. Is it worth speaking about a human being who is determined to think about his existence and search for meaning at the age of hypertext and deconstruction? How much the experiences of a Lithuanian of the end of the sixth decade abroad are actual to the Lithuanian audience?
As discussions about the staging of "The White Shroud" of Antanas Škėma created by the director J.Jurašas at Kaunas Drama Theatre are becoming fewer, the conversation with the Doc. Dr. of literature Aurelija Mykolaitytė is presented.
Aurelija Mykolaitytė: "I thought that it was impossible to turn the novel into a drama. The prose work of A. Škėma is very original, modern, it expresses the break of the human conscience, the internal experience, which is impossible to express in the form of drama. Therefore, the attempt to turn "The White Shroud" into a drama was a real challenge. This time it was one of the more interesting attempts. The absurd situation of a human being is disclosed on the stage using the theatrical language. All dialogues of the drama are based on texts of A. Škėma".
The interlocutor emphasises that certain losses were experienced, but this could be explained by the limitations of drama. The director had to choose and what has been chosen has a concept which helps to reveal the essence.
The author of the article asks how much the tragic man in an absurd situation is actual today. Does such a work have an impact on the contemporary spectator? Or perhaps the director J. Jurašas simply paid a tribute to the national literature?
Aurelija Mykolaitytė: "I think that "The White Shroud" is one of the most contemporary works of literature. A.Škėma speaks about a man universally. His work does not limit with national problems but the writer is able to speak about universal things. The historical background is not so important, The existence of an absurd man in such a world is more significant. The performance will finds its audience. The main theme is a man in a cage – the lift is a cage that restricts the man for the constant movement up and down."