LITTLE ODYSSEY. VILKIJA 0
Ugnė Kraulaidytė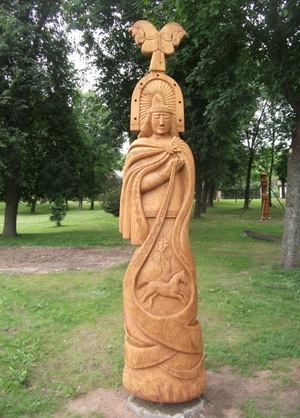 In brief: There are islands of beauty under the Lithuanian sun – spiritual, resistant to time, bejewelled with glorious past. A symposium of wood carvers held on the 4-16th of August encouraged to visit the hilly Vilkija – a little town located in Kaunas District, on the right bank of the river Nemunas.
The town, declared urban monument, is small but special. A magnificent neo-gothic St. George's Church overlooks the town from the hilltop. Old cemetery contains both graves of book smugglers and 19th-century roadside poles with statuettes of saints. A manor of Vytautas the Great once stood in the town but now there is no any sign of it. The 18th-century synagogue was built near the river but now only ruins of its foundation and stonework as well as interwar period photographs speak of its former existence.
Today Vilkija meets visitors with contrasts: a wonderful curve of river and untended riverside; towers of churches and shabby buildings; light brightness in sculptures made by wood carvers and shadows of anxiety printed on the faces of locals.
New oak sculptures rose at Vilkija Park after the plein-air. They both decorate and revive the riverside and remind about some certain aspects of the town's history and local traditions. Sculptors Tomas Tambrauskas (Prienai), Algirdas Vaištaras (Karmėlava), Linas Saladis (Vilkija) and Arūnas Sniečkus (Vilkija) participated in the event. They created seven sculptures embodying concrete professions once important for the town – a blacksmith, an innkeeper, a fisherman, a ferryman, a horse breeder, a standard-bearer and a customs officer.
A. and J. Juškos Ethnic Culture Museum is one of the brightest spawns of culture in Vilkija. The museum's history started twenty years ago but the building itself is about three centuries old. It is a former rectory of Vilkija, which was restored just before the restoration of Independence. It was decided to found a museum here. Now it is known as a 'live' museum full of cultural events, creative activities, inspired by the Orvidai Homestead and the spirit of Father Stanislovas. Art exhibitions are held, various plein-air events are organised, and traditional events such as the Juškos Song Festival or bagpipe concerts take place here. Its permanent collection consists of various items collected from different corners of Lithuania.
Prominent people lived in the building such as the famous 19th-century ethnographer and priest Antanas Juška (1819-1880) or his brother linguist Jonas Juška (1815-1886). They both descended from a landless noblemen family from Samogitia. Lithuania was an object of intense Polonisation policies at that time and so the old Lithuanian culture, traditions and language were about to vanish. Noblemen still spoke Lithuanian in Samogitia, thus both language and customs were preserved strongly in the Juškos family.
However, the Lithuanian language became a focus of attention among many foreign linguists in the 19th century. Since universities in Russia played an important role in this field, J. Juška went to study in Russia. He met famous scholars there and familiarised himself with their works.
In the meantime, his brother A. Juška became a living legend for his love to people, devotion to the language and efforts to preserve the Lithuanian identity. The priest spent a lot of time with locals in order to collect data for his dictionary of spoken language. While his appointment in Vilkija, A. Juška also started to collect folk songs. He organised song contests and awarded their winners – so-called 'queens of songs'.
Antanas's brother Jonas was not allowed to return to Lithuania from Russia for he was disfavoured by the tsar. However, Jonas took care of his brother's works in order to publish them. He knew prominent Russian scholars who helped the brothers in their dead. Finally, Antanas went to see his brother in Kazan, where both brothers lived till their death. Later their remains were re-buried in Veliuona, Lithuania. The brothers desired the Nemunas riverside to be their final resting place.
After the death of both brothers, just before the World War I, some priest Juozas Montvila visited Vilkija. He knew that one of the local 'song queens' had an exemplar of Juška's published songbook. The priest was about to travel to America, where he planned to publish the songbook in greater amounts with the help of Lithuanian Americans. J. Montvila got the book and embarked on a ship. The ship was called 'Titanic' and so the priest never reached the coast. J. Montvila gave his place in a boat to other passengers. It is said that later the songbook was discovered on the ship together with a package full of Lithuanian press.
Images by the author
The author is grateful to A. and J. Juškos Museum