LAND ART FESTIVAL AT RAUDONDVARIS MANOR: NATURE PLAYING TRICKS 1
Austėja Masiokaitė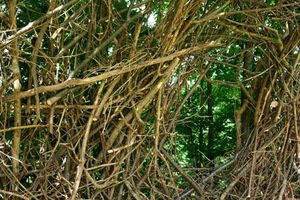 In brief: Works of land art invoke ambivalent emotions. On the one hand, they remind of a visit to an art gallery – one grows curious and tries to understand and interpret favourite works. On the other hand, one might feel uneasy and timid – a sudden appearance of such works somewhere in a forest or other natural surroundings arouses a scary feeling of nature playing an odd trick.
Some works show a human touch at a glance – civilisation reveals itself in bricks or strings. And sometimes it seems that none other than nature itself talks to the spectator.
Peter Hess, the organiser of land art festivals, asserts: 'The task of land art is to surprise a visitor. You walk in a park and suddenly – ah, what is this? – there is something that surprises you, something that was here yesterday but now is different. This is the aim: the same place but a bit different.'
Land art, that summons artists from all over the world to gather in festivals, came to Kaunas District. 22 artists wove, twined and banded their works in the area of Raudondvaris Manor on the 6-10th of August.
The artists work in an open-air environment. They attempt to feel the entirety of the chosen site and to give new forms for the materials they collect around it. Winders start twisting around several trees, stones lie in certain combinations, trees grow into odd shapes and the most bizarre 'plants' sprout up from the earth. According to the curator Marijus Gvildys, land artists do not aspire to decorate nature – they aim to surprise.
'Land art is made of natural materials – they are subject to temporality. It means a constant change. I doubt if any of the artists gathered here see just a stone in a stone – a process itself, the energy of earth that changes an object are very significant,' – M. Gvildys says.
The artists, who worked in pairs at Raudondvaris Manor, made eleven works during the festival. Hopefully, they will last for about three months. Eventually, they will return to their beginnings – nature's elements will slowly take them to pieces again.
Images by the author