TWO NIGHTS IN THE KINGDOM OF FANTASY 0
Simona Siderevičiūtė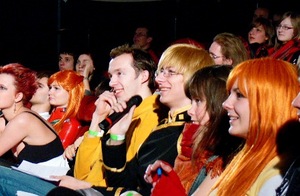 In brief: The Anime Nights – the Japanese animation event – was held in Kaunas on 20-21 April already for the seventh time. Everyone who dreamed of watching animation all night long or even longer could finally make their dream come true.
The animation lovers could enjoy the newest and best works of the Japanese animation at Romuva Cinema Theatre for two days. Nine-hour-long screenings waited for viewers every night. Surprisingly, all seats were taken and people were sitting all over the place.
Animation of various genres – horror, romance, comedy, action and erotica – was offered by the programme. The Moon attacking the Earth, walking fishes, aliens abducting pets, princesses firing automatic weapons and a giant ninja duck called Elisabeth are truly extraordinary spectacles. Apparently, the organisers wanted to please the most various interests. Several films were hard to understand though, since they were created as sequels to animation series or computer games.
The majority of the films shown taught how to rely on one's own powers and tried to convince that even a single human being is able of changing everything. Much fighting was demonstrated on screen, symbolising inner experiences, storms and doubts of the heroes. Unconventional symbols and graphic solutions conveyed the main idea – one must fight for their beliefs. Such virtues as family, friends, the Earth, honour, dignity, freedom and peace were raised. The Japanese do cross the boundaries of imagination by creating new animal species, monsters, hybrids of humans and machines or humans and animals and by resurrecting ancient spirits. After eighteen hours of the Japanese animation films one arrives at the conclusion that the Japanese are crazy about honour, fighting and monsters. And this is very interesting to watch.
Various attractions, competitions were held, prizes of sponsors were distributed and traditional Japanese martial art fights were demonstrated during the breaks. The lovers of anime discussed the repertoire of this year's Anime Nights and its strong and weak sides.
The most faithful anime lovers dressed up as various animation heroes went wild in the day programme. Visitors were invited to learn the art of origami, secrets of calligraphy and to draw Manga comic. Kaunas citizens were surprised by Cosplay competition participants in vivid original costumes of their beloved characters, long hair and exclusive make-up. Wait a minute – is it Elisabeth sitting in the tree?
Photographs by the author