ARCHITECT E.MILIŪNAS – ABOUT THE UNION OF MAN AND GOD IN CREATION 0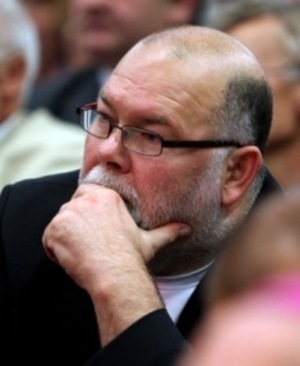 Vida Savičiūnaitė
www.kamane.lt, 2009 04 07
In brief: When one of the most famous Lithuanian architects Eugenijus Miliūnas received the title of the most memorable artist of 2008 in Kaunas, not only he himself but the society which evaluated artists felt discomfited. Was architect an artist? E.Miliūnas did not hide that the recognition was important to him personally as well as for the entire guild of his profession.
What do we know about the architect's profession and the creative process? Do powerful and rich architects also cry? In order to give light to the rather obscure understanding of architectural process, the author invited the architect E.Miliūnas, who is called the example of professionalism, sensitivity and professional honesty by competing colleagues, to take a look at this professional field. Extracts from the interview are presented here.
Let's start from the main question causing whispering in the society: is architecture art, and if not, why?
Speaking about architecture, it is art and science. Everything is much more complicated here, as the combination of rationality and irrationality is very special in architecture. To emphasise the difference from pure art, one may call architecture applied art.
Knowledge and brain is not sufficient in order to create a frame according to which all different cultures and nations of diverse experience and mentality would live harmoniously. Some subconscious feeling, irrational skill of listening, spiritual intuition, something non-material should be employed here. A real architect faces such architectural tasks constantly.
Rational decisions should be in harmony with the absolute listening skill for everything: colour, material, material background, social environment, present time, spiritual feelings and expectations of people who live in that environment. It is rather hard to combine all these things, and this is why architecture may be considered the most complicated activity that requires much responsibility.
E.Miliūnas' study. View of Kaunas arena from M.K.Čiurlionis Bridge
E.Miliūnas' study. Kaunas arena in the Nemunas Island. Visualization
E.Miliūnas' study. Kaunas arena in the Nemunas Island. Visualization
E.Miliūnas (project manager). Šiauliai arena
E.Miliūnas (project manager). Šiauliai arena. Facade
E.Miliūnas' study. Competitive project of Merkurijus reconstruction
What improvisation possibilities does an architect have and when?
A work of architecture is like a "Titanic", which sails according to the set route with huge inertia; you may not change it easily and may not improvise much. On another hand, there is place for minimal jazz in it. The turn of an architect's work into a real building should have at least 20 percent of freedom for improvisation. Even with the biggest experience, you may not foresee everything to the greatest detail. There are things which become clear while observing the construction process, in the real space.
This is the way I am working with the arena in the Nemunas Island. The scale is visible already, the foundations have been made. We observe the object from various sides and various places in the city, from the roof of Akropolis garage. We checked things that may not be changed any more once again: whether the place was selected well, whether the dominant of the island was preserved, whether the relation with water, present and future adjacent buildings was harmonious, etc. It seems that the main decision is correct. I have become clam about it already.
Now we will be inspecting the correctness of details of arena finishing, interior spaces, formation of surroundings in the same censorious manner. These things may be changed in the course of construction, and we may improvise with them in order to achieve the best result.
What was the first object designed by you that gave the most painful professional lesson?
The project of M.Žilinskas Gallery in Kaunas left extremely deep emotions. I won the contest, but I was not very obedient; thus, I was not supported and loved at that time – it was the Soviet period. I was later removed from the project, which was further developed by my friends. Then Algimantas Kančas gave me a very good lesson. He said that I loved myself more than my profession. After taking a thought, I understood that Algis was right.
When I returned to the project having overcome my ambitions, everybody was pleased. That incident freed me from ill self-love, categorical character, exaggerated self-trust. The story of M.Žilinskas Gallery was the most painful and useful for me. That was the time when I understood the essence of responsibility and drama of this profession.
You have to foresee every small detail while making a design. It is creation accompanied by huge internal tension and responsibility. The responsibility is increased by the fact that the architect has large amounts of money needed for the construction objects at his disposal. Objects created by an architect gladden or sadden people of several generations. An architect may not throw away a bad work to the waste basket. A mistake of an architect tortures him/her all the life and even after death.
E.Miliūnas. M.Žilinskas Art Gallery in Kaunas
E.Miliūnas. M.Žilinskas Art Gallery. Interior
E.Miliūnas. M.Žilinskas Art Gallery. Interior
How does the natural human and creative egoism affect architecture?
When I am now asked what I would like as an architect the most, I answer, that I have no right to desire anything. Contexts have the biggest influence on architecture. You have to think about everybody but yourself while creating a project. You have to take into regard the historical and urbane context, wishes of the customer, price of the project, people who will live or work there, who will see your work for decades and even for centuries. Real architecture is always thinking about future and about the man of the future, not about oneself.
E.Miliūnas. Dwelling house in Palanga
E.Miliūnas. Dwelling house in Palanga
E.Miliūnas. Dwelling house in Palanga. Interior
It is said that literature and dramaturgy (thus, theatre, cinema) has been exploring the same five plots for centuries. Only their interpretations differ. Is it possible to expect an absolutely unique idea in architecture?
We should remember another statement here that a human mind may not imagine unreal things. Being a creature of God who receives information from above, the man may only compile his ideas from things that are around him already. I have felt many times in practice that new ideas born in my head appear to have been discovered in some other place in the world. Global subconscious communication, the supreme mind operates here.
I felt this personally when I created sketches for the aforementioned M.Žilinskas Gallery. I suddenly realised that I was creating a church of art. A Lithuanian church of art as a counterbalance for the adjacent Russian Sobor. I designed M.Žilinskas gallery as the centre of majestic, European, free and democratic culture, which could resist the prevailing Soviet culture then.
I was drawing sketches at home for a long time but I failed to reach the aim. I decided to come to the square early in the morning one day and to create the sketch in one breath. And suddenly I saw the future gallery – stairs, columns, volumes, entire structure, the yard, spaces. I felt hot. It is a feeling hard to describe.
How can we call this enlightenment? Was it me who created M.Žilinskas Gallery or did the idea come from above? No, it was not me. I only acted as a recipient who succeeded to catch the important information was managed by the supreme mind of the world in that particular place.
E.Miliūnas - the most memorable artist of Kaunas of 2008