CAR SERVICE CENTRE AS THE CITY GATE 0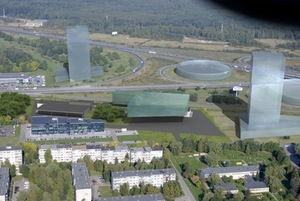 According to the minutes of KAUET meeting of 22 10 2008,kamane.lt, 2008 11 12
In brief: Kaunas Architecture and Urbanism Experts' Council (KAUET) considered the technical project of the car service centre in Kaunas, Savanorių Ave. 408 repeatedly. The design is created by S.Mikštas (Miestprojektas AB). The customer is Animodus UAB. The meeting was chaired by Vygintas Merkevičius.
According to S.Mikštas, in essence these are separate shops of two car companies with a joint service centre. The shops have been designed taking into regard the requirements of the companies FIAT and BMW. Entrances are planned from Savanorių Ave. and Partizanų Street. As doubts were expressed regarding the direction of the main façade, it is now offered to direct the main façade to the entrance from Savanorių Ave.
After considerations of experts, the project was approved of. It was recommended to take into regard the following notices of experts:
1.1 The traffic scheme offered in the project is complicated and complex. It is necessary to improve it (10 experts);
1.2 The architectural expression should gain more originality, emotion, colours (7 experts);
1.3 The volume composition of the car service should be more integral (6 experts).
2. KAUET turns to the Urbanism Department of the city regarding the necessity to prepare the joint concept of the City Gate and to solve traffic problems of the quarter.
Prepared by Jūratė Merkevičienė