ART + ART OF COMMUNICATION = CHALLENGE + CHALLENGE 0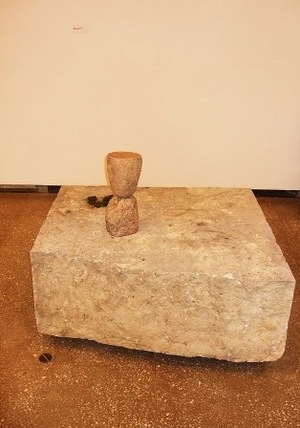 Ieva Vaivaraitė, 1st year Master student of Art History and Criticism, VMU
www.kamane.lt , 2008 11 07
K.Lanauskas. "Time 2008
In brief: The project "Art + Art of Communication" improvised for the fifth time already provokes to look at works, touch them and to tighten up ears as its subtheme is sound. One may miss silence even before stepping to the main hall of Kaunas Picture Gallery – it has been pushed away by whispering, strum, humming and thud.
In addition to museum silence, a much bigger danger is caused by the silence prevailing between a spectator, artist and artwork. This silence is constantly growing and the declared interactivity of art, actuality and liveliness vanishes in it.
This is why "Art + Art of Communication" serves as a challenge, it represents a laboratory of an alchemist, where it is attempted to transfer the spectator, artwork and creator to the place where passions, intrigues and emotions boil. Is the experiment taking place for the fifth time successful? Have artists succeeded in using the magic of sound? How did sound merge with works and influence spectators?
The dialogue of visual arts with sound is not always fluent. A rather big number of participants left sound in the background and granted it the role of an annex to an art object. Attempts to express thoughts and emotions occurring to a spectator in sound remind of staged applause and laughing in cheap comedies and shows.
For instance, Monika Stasiulionytė tries to combine her installation "Find" with sound created by Titas Petrikis. Installation would not become less interesting if there was no sound in this case.
Meanwhile, the lessons of the Psilicone Theatre may be considered a successful example of sound integration into an artwork. Auksė Petrulienė makes the spectator create various kinds of noise according to the programme prepared by Jurgis Mačiūnas in the project "N14 Exercises for Ears and Eyes").
It is a pity that other video projects of "Art + Art of Communication" leave spectators passive, and sound, paradoxically, becomes a silent additive.
Only half of the authors tried to communicate with the help of new technologies. Meanwhile, others combined their works with sound in a usual manner, playfully, encouraging spectators to get involved. Algimantas Šlapikas asks a spectator to blow on the cat's tail ("Blow on the Cat's Tail"). Other works of the sculptor also lure by irony and multiple meanings: "Doors", "Safe Cradle", "With Face to the Ground").
Irony is not the only method to attract a spectator – the art of communication may not be imagined without secret of pauses and quiet moments. Kęstutis Lanauskas does not avoid weight of material and speaks about heavy time and clock in his work ("Time 2008"). Laconic forms, only several drops of sound, and the contact is created bringing the flair on impermanence of the world and life.
Painters who participated in the project communicated with sound unwillingly. Only names of works had something to do with sound (Gintautas Vaičys "Supersonic Painting", Aušra Andziulytė "Red Sound", "Silence and Noise").
Meanwhile, textile artists weave relations with sound in an original manner. Virginija Krivelienė films and adds more volume to the "playing" of a thread on fabric turning it into an act of meditation. The secrets of creation are left behind the gallery door, still, the spectator is tempted by this secret a lot.
As a result, "Art + Art of Communication. Sound" brought up two tasks this year. A dialogue between art and audience is created, artists are encouraged to combine different creative means inventively and to widen up their vocabulary of creative language. Such projects educate participants and also reveal various prevailing problems. It becomes evident that conceptuality is not fully realised and is known more like a theory among artists.
Thus, space is necessary for experimenting, and the project "Art + Art of Communication" creates such space in fact. In this way the society is invited for a discussion, and not only old wolves but also younger creators and spectators are lured to the gallery.