TWO KAUNAS SCULPTORS AMONG THE BEST SCULPTORS OF 2009 0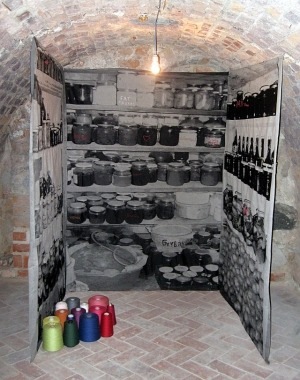 Romas Daugirdas
www.kamane.lt, 2010 05 06
Monika Žaltauskaitė-Grašienė. "Cellar"
Artūras Burneika. "Relax"
Nerijus Erminas. "Dipped"
Nerijus Erminas. "Euro Standard"
In brief: The best sculptors of Lithuania of last year were announced at Vilnius St. John's Street Gallery on the 5th of May. They were elected from the authors who presented works for the competitive exhibition "The Best Sculpture of the Year'09" organised by the Artists' Union, Vilnius Branch, Sculpture Section and Vilnius Sculptors' Club.
Even though such masters of sculpture as Leonas Strioga and Stanislovas Kuzma participated in the exhibition, all four awards were granted to creators of the young generation.
The sculpture of Kaunas artist Artūras Burneika "Relax" was recognised the most outstanding work of 2009 in the public space. The turning steel gramophone created by the artist was placed in Druskininkai, at the corner of M.K.Čiurlionis-Vytautas Streets last year.
The work "Cellar" of one of the most famous Kaunas textile artists Monika Žaltauskaitė-Grašienė received the title of the most outstanding installation of 2009. The walls of a small room are covered by photographs of jams accumulated by the author's father who died recently. The photographs have been woven using the traditional jacquard weaving technique. The most precious things of the artist, threads, are stored along with jams in the "Cellar".
The winners of other two nominations are brothers Nerijus and Andrius Erminai. "Dipped" by Nerijus Erminas was recognised the most outstanding work of small plastic of 2009. Andrius decorated standard euro palettes by motifs of ancient Lithuanian fabrics. His "Euro Standard" received the award of the most outstanding object of 2009.
All four awards are tantamount. The authors were granted letters of honour and the possibility to organise a one-man exhibition at St. John's Street Gallery. None of the awarded artists wanted to participate in the discussion about contemporary sculpture or in the ceremony of announcement of winners yesterday.
The purpose of the exhibition "The Best Sculpture of the Year'09" was to review the most outstanding 3D works (sculptures, small plastics, objects and installations) created in Lithuania in 2009, to present them to the public, art critics and researchers, collectors and art managers. One of the aims of the competition was to encourage professional cooperation of artists of various fields and to register the development of 3D plastics in Lithuania.
All artists creating 3D works were invited to participate in the exhibition. This is why it includes works of sculptors, ceramicists and textile artists. Every artist had a possibility to present the best work created last year at own discretion.
Photos by R.Daugirdas