ART FEAST FROM LITHUANIAN PARIS 0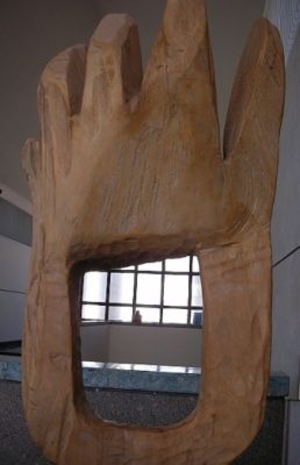 Edmundas Saladžius
www.kamane.lt , 2010 05 31
In brief: An exceptional exhibition "Lithuanians in Paris" was presented in Kaunas. The works of Vytautas Kasiulis (1918, Simnas -1995, Paris), Žibuntas Mikšys (1923, Kaunas), Antanas Mončys (1921, Kretinga - 1993, Paris), Pranas Gailius (1928, Mažeikiai), Neemija Arbit-Blatas (1908, Kaunas - 1999, New York) are showcased at M.Žilinskas Art Gallery thanks to the writer Valdas Papievis and collector Edvinas Žukas.
The opening of the exhibition was attended by numerous guests. Representatives of the Embassy of France participated, and Prof. A.Uždavinys said a thorough introductory word.
A.Mončys
A.Mončys. "The Hand"
A.Mončys. "Erotica".1968.
A.Mončys. "Jonas". 1979.
A.Mončys. "Composition"
The sculptor A.Mončys inspired by openwork wooden carvings created by folk masters shows an original and deep attitude regarding the temporality of a human being and fragility of existence in the world. A.Mončys of reserved character and ardent in art denies the primitive and stereotypical fear of death resolutely. He carves a cycle of openwork wooden skeletons demonstrating the grandeur of a human frame that supports and fosters our material coat. Several chamber wooden sculptures and unseen paintings represent the works of the author in the exhibition.
Ž.Mikšys
Ž.Mikšys. "The Hawlk Flew By". 1960.
Ž.Mikšys. "Classical Composition".
Graphical work of Ž.Mikšys
Ž.Mikšys demonstrates refined elegance by his creative works presented for this exhibition. Contrary to other Lithuanian graphics of the 20th century working in Lithuania and emigration, Ž. Mikšys creates graceful arabesques of letters. Linocuts and etchings are presented in the exhibition. Ž.Mikšys and his wife have organised several exhibitions in Lithuania; his works are kept in Lithuanian museums and private collections.
P.Gailius
Confrontation of P.Gailius and Ž.Mikšys at M.Žilinskas Art Gallery
Paintings of P.Gailius
P.Gailius can be considered the most vital in this exhibition. Engravings exuding life and grape juice catch an art admirer and cast him to the mix of snappy notices, Jewish psalms and other things. P.Gailius is very French. He ruins the stereotype about a gawky Lithuanian and graceful Latin Frenchman. The artist is receptive and wise – he learns from other nations and takes over their best features without losing the national identity.
V.Kasiulis
V.Kasiulis. "Moulin Rouge".
Paintings of V.Kasiulis
The other two painters of the exhibition are like two different poles of the North and the South. These are N.Arbit-Blatas and V.Kasiulis. The latter succeeded to sustain from his creation, which is very rare these days. V.Kasiulis refuses the pastoso painting of noble colours used in the inter-war period. His canvases become light, transparent, stained-glass-like in Paris. The pictured characters are stereotypical les forains of Paris. V.Kasiulis is a light painter; his works are bought well.
N.Arbitblatas
N.Arbitblatas. "Paris. The River Seine"
Paintings of N.Arbitblatas
Graphical works of N.Arbitblatas
N.Arbit-Blatas is presented by a rather big collection of paintings and graphical works in the exhibition. It is a creator marked by the inborn talent of a painter. The heavy, sensitive and carefully chosen chord of colours is eye-catching. It is not enough for the painter to admire the interpretation of the environment created by him. The painter invites the viewer to see the banks, women, apples, blue Eifel tower loved by him. The Lithuanian Jew treats the viewer with his Paris, which is so tasty and French.
The author knew several of these artists personally. Others are already dead. Passing along Laisvės Alley, he states to be unable to see the city which was loved by Ž.Mikšys any longer. Pre-war Kaunas has changed beyond recognition. Still, works of great artists Vytautas Kasiulis, Žibuntas Mikšys, Antanas Mončys, Pranas Gailius, Neemija Arbit-Blatas remain.
Photos from the exhibition "Lithuanians in Paris" by V.Savičiūnaitė
***
Kamane.lt reminds that the exhibition may be visited at M.Žilinskas Gallery of the National M.K.Čiurlionis Art Museum until the 20th of June.