JAZZ MASTER D.PULAUSKAS DOES NOT EXPECT FAVOUR FROM MUSES 0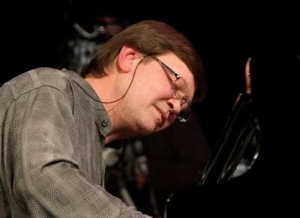 Asta Andrė
www.kamane.lt, 2010 06 06
D.Pulauskas will blow dust from early works on the occasion of his jubilee. Photo by R.Jurgaitis
In brief: One of the most popular jazz creators of the country celebrating his 50th anniversary, the keyboardist, composer, arranger and leader of bands Dainius Pulauskas dedicates all his concerts of this year to his jubilee.
The musician will invite to the jubilee evening in the big studio of LRT on the 9th of June, where he will reveal various sides of his talent. Later D.Pulauskas will present new programmes in Nida Jazz Festival and Vilnius Jazz Festival.
On the occasion of the anniversary the creator grants the new DVD of his band to his admirers and soon will release his eighth original album. The interview with the musician is about his creative work, concerts, new ideas.
"I became interested in jazz rather late, after I worked in the vocal instrumental ensemble Oktava for ten years. There was not so much of jazz in Oktava – we played popular music. If I were young now, I would not miss the occasion to study jazz abroad.
My generation lost much in this field. We had to learn everything ourselves, from what we heard: there were no notes, textbooks, information. We used to hunt for recordings, copy cassettes, listen to them until they frayed. Actually, we are the generation of self-educated jazz musicians. On another hand, I craved for things had to attain more. Now young people have access to anything; still, I would not say that their music is of higher quality," the musician speaks.
D.Pulauskas is asked whether he has implemented all his ideas. "I have recorded all complete and performed works. Much time is needed for the realisation of ideas. I consider them long, sometimes I have to labour. Still, creation is not waiting for the muse only. The more you play, the more ideas you have. Composition may appear from one spontaneous rhythmical phrase or motif of timbre. Ideas are always accumulating in the head, and I review and process them when I need it. I use moments in between other work for this," D.Pulauskas points out.
"The latter half of the year was very intensive: I played in TV projects, arranged works for them, had a trip with Baltic Jazz Trio in the Baltic Sates, and with L.Šinkarenka Jazz 4 – in London. Still, when I have an aim to record an album or prepare a new programme, I find time for this. There are always plenty of new ideas. For example, I have an idea to play with birds now. It is possible. Veronika Povilionienė and I have recorded an album of lullabies, in which a nightingale is singing. I believe that I will succeed to communicate with birds," the musician reveals his plans.
D.Pulauskas has performed in India, China, Indonesia and states that impressions from these countries have left a trace in his works. Exotics accompanies the musician from the times of Oktava. He states that he would have started to play jazz earlier if not for this ensemble; still, this period also granted something: he saw the world and acquired important professional skills. He started creating and arranging music in the period of Oktava.
"On the occasion of the jubilee, I will revive songs written in that period: new arrangements will resound in the coming concerts. I loved creating songs then: there were places where and for who they could be performed. When I worked in Oktava, I wrote the most of them to Žilvinas Bubelis.
Now my songs will performed by Gytis Paškevičius, Donatas Montvydas, Rosita Čivilytė and Egidijus Sipavičius.
My wife Jolanta writes all texts to my melodies. It is hard for me to write music according to texts. We have also created new songs for the jubilee. We will perform my compositions created in various periods with the jazz band in the concert," D.Pulauskas promises at the end of the interview.