THE BEST YOUNG PAINTER IS FROM KAUNAS 0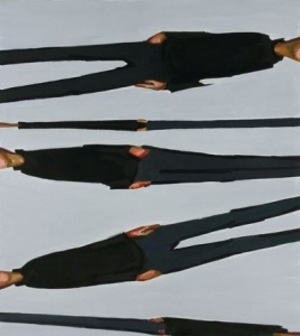 Romas Daugirdas
www.kamane.lt , 2009 10 30
Andrius Zakarauskas. "Horizontal Strokes", canvas, oil. 190x180 cm, 2009.

Jolanta Kyzikaitė, "N- 7", canvas, acrylic paint. 270x320cm, 2009.

Alina Melnikova, "I will Reach you Anyway", canvas, oil. 84x1335 cm, 2009.

Kristina Kurilionok, "Simple Miracle", canvas, oil.170x150 cm, 2009.
Winners of the competition "Young Painter's Prize'09" were announced at Vilnius Pamėnkalnis gallery on the evening of the 29th of October. Andrius Zakarauskas, who celebrated his birthday on this day, was recognized the best (painting "Horizontal Strokes"). He was granted LTL 7 000 prize and was provided the possibility to organise a one-man exhibition at Pamėnkalnis gallery in 2010.
A.Zakarauskas was born in Kaunas on the 29th of October of 1982. In 1988-1999 he studied at Kaunas V.Kuprevičius Secondary School, in 1991-1999 – at Kaunas A. Martinaitis Art School, in 1999-2001 – at Kaunas Aušra Gymnasium.
In 2001-2005 he studied painting at Vilnius Academy of Arts, in 2004 – at Miguel Hernandez University, de Bellas Artes Faculty, Altea, Spain. From 2005 the artist continues Master studies at Vilnius Academy of Arts, Department of Painting. He works and lives in Vilnius.
Munich gallery Andreas Binder presented the one-man exhibition of A.Zakarauskas in Amsterdam, in the 25th fair Art Amsterdam in May of this year, and his works were also shown in the international art fair "Scope Miami" in Miami (USA) slightly earlier. Vilnius gallery Vartai introduced works of A.Zakarauskas in the prestigious art fairs ARCO in Madrid, Art Cologne in Koln, Vienna Fair in Vienna, etc.
The famous Berlin gallery Michael-Schultz noticed the young painters' works in one of these fairs, and the artist organised the solo exhibition "First Mention" in it in 2007. A.Zakarauskas also opened a solo exhibition "Lern Malen" ("Learn Painting") in Andreas Binder gallery in summer of last year.
A young Lithuanian artists' exhibition "NOW!" was organised in Bialystok Arsenal gallery (Poland) in September and October of this year. The curator of this exhibition Magda Kardasz selected the participants during her visit in Lithuania, after getting acquainted with all young Lithuanian artists' works. A.Zakarauskas was among 15 selected artists.
* * *
The winner of the second place Jolanta Kyzikaitė (painting "N-7") received the prize of LTL 4 000. The artist writes in the material presented for the competition that she was born in Kaunas district in 1980 and studied at Kaunas Art School in 1991-98. In 2004 she completed the Master studies at Vilnius Academy of Arts.
The winner of the third place Alina Melnikova (painting "I will Reach you Anyway") received LTL 2 000 prize.
The sponsors of the fund of competition prizes were two private persons – Nikolas Ortizas and Mindaugas Raila.
The best young painters were elected by the evaluation committee formed of artists, art critics and exhibition curators. Committee members: head of the National Art Gallery Lolita Jablonskienė, deputy director of Vilnius Contemporary Art Centre Evaldas Stankevičius, art theoretician from Šiauliai Virginijus Kinčinaitis, painter Arvydas Šaltenis, painter, chairman of the Artists' Union, Painters' Section Vilmantas Marcinkevičius, artist Gintaras Makarevičius, painter Dalia Kasčiūnaitė, painter Bronius Gražys, painter Jonas Gasiūnas and art critic Milda Žvirblytė.
The work elected by the audience, for which one could vote in artnews.lt and 15min.lt websites as well as in the exhibition open at Pamėnkalnis gallery, has also been announced. The painting "Simple Miracle" by Kristina Kurilionok received the biggest number of votes.
Other painters in the list of ten finalists: Kristina Ališauskaitė, Aistė Bilevičiūtė, Adomas Danusevičius, Monika Furmanavičiūtė, Linas Jusionis, Eglė Karpavičiūtė.
The main aim of the project "Young Painter's Prize '2009" is to present the most perspective and brightest painters of the young generation. It is a wonderful possibility for the public to get acquainted with works of young artists and for art collectors, managers and curators to discover new talents in Lithuania. It is also important help for young painters on the road to recognition.
The organisers of the competition chose Pamėnkalnis gallery purposefully. The tradition to introduce young painters' works has been alive in it for a long time. Many famous Lithuanian artists made their debut in this space.
This is where the famous four painters K.Dereškevičius, A.Kuras, A.Šaltenis, A.Švėgžda organised their first exhibition. The first exhibition of the so-called "five" (B.Gražys, H.Natalevičius, M.Skudutis, R.Sližys, R.Vitkauskas) was also presented at Pamėnkalnis gallery. Exhibitions of young painters and graphics were often presented here.
In 2008 the gallery revived the tradition and presented five female painters of the young generation in June. Meanwhile, the competition "Young Painter's Prize '2009" should become traditional and should be organised every year in future.