LEADERS OF CREATING KAUNAS OF 2008 – ARCHITECT AND DESIGNER 0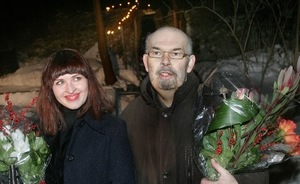 kamane.lt
The most memorable artists of Kaunas of 2008 - architect E.Miliūnas and designer M.Vilčinskienė. Photo by L.Brundza.
Photos by L.Brundza
The thought expressed by a clever but careless man once that there are artists and artists from habit became extremely topical in Kaunas on Friday.
At the feet of the snow-capped Žaliakalnis slope, which is supported by the shoulders of Kaunas Artists' House, the gathered actors, poets, painters, art photographers, directors, writers, musicians, composers, and art lovers of Kaunas raised glasses of hot wine and applauded to the creators of art, which is not understood by all, i.e., to an architect and designer illuminated by festive fireworks and torches.
One newspaper of Kaunas even hurried up to announce that not the creators of real art would be applauded this year in this place (i.e., at Kaunas Artists' House electing the most memorable artist).
What has happened?
A simple thing: it was the first time that representatives of architecture, mother of all arts, and design creating contemporary life aesthetics and self-respect won the election of the most memorable artist of Kaunas during the period of more than 10 years instead of artists of the usual art genres.
On Friday evening the artists of Kaunas of 2008, who contributed to the creation of image of Kaunas as a contemporary city, were honoured solemnly, respectfully and with humour at Kaunas Artists' House.
The architect Eugenijus Miliūnas, the head of Kaunas arena project in the Nemunas island, and Monika Vilčinskienė, the author of impressive postcards and social advertisement cycle "Kaunas. It is My City, No Matter Where I am", were honoured in the election of the most exceptional artist of Kaunas initiated by Kaunas Artists' Home for the twelfth time already.
Their names were inscribed on the "Winged Column" created by the sculptor Stasys Žirgulis. The sculpture is also called a flameproof manuscript of the most famous contemporary artists of Kaunas.
For the winners to believe that they were really important and honoured, E.Miliūnas and M.Vilčinskienė received grave documents of Kaunas Artists' House and Kaunas City Municipality. The documents testify that they are exceptional artists with merits to Kaunas titled by exceptional titles from now on.
The winners were honoured by theatrical praising on the snow and under the roof, elegant applause of the gathered people, buckets of flowers, gifts, by a merry concert of Rokas Zubovas' band The Disobedient, hot wine and other spiritual and tasty goodies.
The ceremony of honouring the most memorable artists of Kaunas of 2008 continued for several hours. Everybody was happy. Not only the winners. As the unhappy simply did not come to the feast most probably.