MIRROR, TELL US WHO'S THE MOST BEAUTIFUL IN THE WORLD, OR ABOUT TIME-WARP 0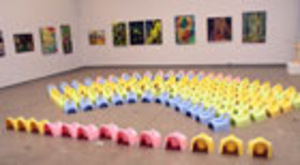 (Dedicated to the exhibition "The Best Artwork of the Year 2008". Picture Gallery of the National M.K.Čiurlionis Art Museum)Rasa Andriušytė
www.kamane.lt, 2009 02 06
Audronė Petrašiūnaitė. "Look at Oneself". Photo by L.Brundza

Jūratis Zalensas. "Unfamiliar Saint ". Photo by L.Brundza

Gintautas Vaičys. "Kite". Photo by L.Brundza

Romanas Averincevas. "This has happened ". Photo by L.Brundza

Haroldas Ernestas Černius. "Lilies". Photo by L.Brundza

Rima Žilinskaitė. "Ophelia". Photo by L.Brundza

Egidijus Rudinskas. "Stefanija from Žaliakalnis Market and Kazimieras, Seller of Apples ". Photo by L.Brundza

Danutė Valentaitė. "Yellow Tulips ". Diptych. Photo by L.Brundza

Žilvinas Labanauskas. "Strange Faces. In Choir". Photo by L.Brundza

Eglė Labanauskaitė-Steponavičė. "Fa Sol-1". Photo by L.Brundza
- Idler, here is the egg.
- Is it shelled?
- No.
- Throw it over the fence then! (From a Russian folk tale.)
In brief: The exhibition of the best artwork of the year 2008 opened at the Picture Gallery of the National M.K.Čiurlionis Art Museum is an occasion to think about the artistic life of the city. What does it depend from? Who is it created by, and what does one want to show? What is interesting and actual for artists? Where the looks of viewers are targeted? These are urgent questions related with the activity and future of Kaunas artists, Lithuanian Artists' Union and the main exhibition hall of the city – Picture Gallery.
The author states not to understand why the best artwork is necessary and what it should be like. There are plenty of facts in history, when works were forgotten and then rediscovered anew. Works of Caravaggio, Vincent van Gogh, Kaspar David Friedrich, or Mikalojus Konstantinas Čiurlionis were not considered to be the best when these artists were alive. Such artists as Henrik Siemiradski, Franz von Lenbach, Karl Rauch and many others were heroes of the time, and now their works are no longer topical and are considered to be boring.
Every prize may easily become an anti-prize, should the ideological scheme or conjuncture change. Who is proud of names of Stalin, Lenin, USSR national painters? When electing the best and other works awarded by prizes, we are playing one-day games.
Eyes "spoiled" by works of Arūnas Vaitkūnas, Rimvydas Jankauskas-Kampas, Audronė Petrašiūnaitė, Mykolas Šalkauskas once are still searching for such works to be called the good tradition of Kaunas painting.
In this exhibition one of the best works is "A Look to Oneself" by Audronė Petrašiūnaitė. Her and Jūratis Zalensas' works still preserve the modernistic painting features, the understanding that painting is not repetition of outside shapes but also the embodiment of inside feelings.
Eglė Velaniškytė, who has a personal exhibition at V.Kudirka Library, did not select the best work. The painting "Woman in a Red Robe" is a rather dull reflection of the Biblical theme analysed by the author for quite a time.
Gintautas Vaičys, who constantly migrates among various methods of expression and who repeats this or that, succeeded to create an original red painting "Kite" this time.
Auris Radzevičius, Algirdas Šakalys, Romanas Averincevas, Tomas Misevičius are very different authors; still, they are united by the liking of grotesque figures, a mix of nervous sarcasm and glee. It is the strongest group of painters in this exhibition. It is an interesting community of crazy figure painters.
The graphic Egidijus Rudinskas is worth mentioning – he has created an impressive aqua fortis on the theme of Kaunas inhabitants and market.
Textile was exhibited like a step-daughter of the exhibition so that one would not see it at all. Still, one work attracts attention in the furthest hall – it is the diptych of Danutė Valentaitė "Yellow Tulips", subtle and technically well performed small-scale tapestries.
Small plastics of Eglė Labanauskaitė "Fa Sol-1" created according to the paradox principle of sound and view could be a candidate to an award granted by professional art critics. Ceramic masks of Žilvinas Labanauskas are also very persuasive.
Still, the principle of a mix does not let one notice new authors. There is no information about participants in the exhibition, known and new, elder and younger. In general, there is plenty of contemporary kitsch in the exhibition. Pos, shopping centre views with logos of companies and glass beads, one more caricature of Mona Lisa, statements about the economic crisis or war in roads…
What is happening? Kaunas was called the capital of modernism and avant-garde in the 20th century. If we made judgements according to this exposition, one should have to state that the city risks turning into a capital of provincial art and bad taste. This manifests for ten years in sequence already. It's like a time-warp created by museum employees who work in the Picture Gallery supported from the budget.
Why such an exhibition is needed then? Four aims are achieved at once: artists are satisfied for being able to present themselves in the important exposition space of the city once per year. It is a chance to become the best for a short while. Also, the Picture Gallery finally revives once per year as the number of visitors increases in this exhibition. After February 16, when the awards are granted, one will be able to slumber again until the next exhibition of the best artwork of the year.
There were times when young Kaunas artists organised exhibitions seriously. Almost thirty years ago, in the Soviet times, Arūnas Vaitkūnas, Eglė Velaniškytė, Algė Stankutė organised, exhibited and discussed their exhibitions enthusiastically. Despite the hostile and severe environment and the all-seeing eye of the party, artists were not only crabs closed in their workshops. Now Kaunas exhibition halls usually look gaunt. The quantity dwarfs quality. Recession of serious artistic ideas is evident.