RESISTED THE "GREAT DOZEN" 0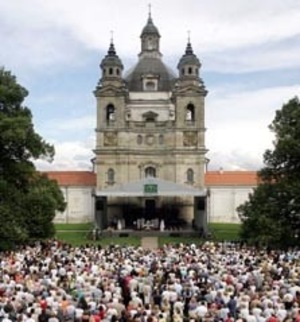 Vaiva Mažulytė
www.kamane.lt, 2008 09 07
In brief: After the last sounds of the thirteenth Pažaislis Music Festival died away, the superstitious people could feel frustrated – "the great dozen" appeared to be not so terrible. The number did not bring any problems to the final concert or other events of the festival this year.
The concert performance of the opera "Village Pride" by P.Mascagni, the accent of the final concert, was not spoiled even by the rain that started in the middle of the programme.
The joint team of Lithuanians and foreign performers played the verism masterpiece of Italian opera of the 19th century: Elena Lo Forte (soprano, Italy), Ieva Prudnikovaitė (mezzo soprano), Laima Jonutytė (mezzo soprano), Badriы Maisuradze (tenor, Georgia), Vytautas Juozapaitis (baritone), Kaunas State Choir (artistic director and chief conductor Petras Bingelis) and the Lithuanian National Symphony Orchestra conducted by the artistic director and chief conductor Juozas Domarkas.
The brightest star of the evening B.Maisuradze demonstrated mastery of the highest level. The owner of dramatic tenor performed the part of Turiddu really expressively and persuasively.
The soloist from Italy E.Lo Forte had more trouble with persuading the listeners. Her strong soprano lacked timbre integrity while singing in the high and medium registers. The soloist performed her part technically quite well, but the psychological trial and tragic notes of Santuzza, the main character of the opera, were not revealed.
Lithuanian soloists performed wonderfully during the evening. V.Juozapaitis and I.Prudnikovaitė performed their roles with character and precision. Musicians of the Lithuanian National Symphony Orchestra remained patient, when rain started pouring on the people who sat at the side of the stage. The orchestra headed by J.Domarkas lacked clean intonation only in several places of the opera. This was extremely prominent when the group of violins played in unison. Kaunas State Choir sounded well as always.
Of course, open-air concerts rarely surpass events taking place in buildings by their quality due to particularities of acoustics, sound and air whims. However, this time sound engineers worked hard to achieve good results.
There is space for improvement while striving for the world level; however, despite some drawbacks, Pažaislis Music Festival becomes more actual and visited by a greater number of people every year. The variety of the programme, performers and music styles, concert spaces used inventively interest more and more listeners.
Waiting for the next festival, one has to spit over the left shoulder three times so that superstitions would not manifest themselves and to wait for another cultural event important to Kaunas – for the opening of Kaunas Philharmonic, which has reborn after the repairs, in October.