IN MEMORIAM OF A.VAITKŪNAS. LECTURER'S PRINCIPLES 0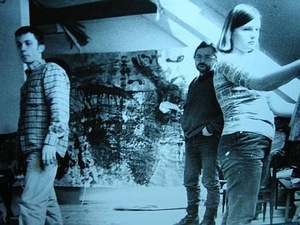 Aušra Barzdukaitė-Vaitkūnienė
www.kamane.lt, 2008 09 22
In the painting studio of Kaunas Art Institute in 1998.
In brief: While going through the pages of Arūnas' notes, I found a text written carefully and underlined by his hand:
"A lecturer should obtain trust of students. They should be sure that he will not say anything that he will not be able to ground on the basis of his professional experience and that he will say everything he should say. A lecturer, who was silent when his duty was to express an opinion, knows deep in the heart that he has lost the right to such trust. He looks at his students with unclean conscience, and a human being with unclean conscience is similar to a patient."
The quotation I later found in Erwin Panofski book "Meaning in Visual Arts" was one of the main attitudes in Arūnas activity as a teacher. He knew how to protect his students, advised them on life issues. He used to worry about them, especially after the reviews of competitive works. He considered success and back luck of students long afterwards.
Arūnas did not stick to his opinion categorically. He always checked it, discussed with colleagues. Sometimes he invited students to the workshop. He communicated in a simple manner, joking. He was observant and accurate.
The painter A.Jonkutė remembers, "I did not fear to disagree with his opinion, I disputed. He was very serious but also he could show shoes and say: look, I have bought shoes. I remember he showed shoes before Georgia as well. He said that he would need comfortable shoes for going to the mountains. We also met when he was going to buy a scooter for the son Tomas. You could meet him often in a bookstore. He always asked me about Alytus at the institute. He never revealed where from he knew about the town so well."
Arūnas returned very tired after his work at Kaunas Art Institute as he gave much strength, nerves and heart for it, "I had no strength to drop to the workshop after the lectures, not to speak about painting. The teaching drains all energy. I would really appreciate if I could only paint."
The former student Darius Rakauskas remembers, "Year 2000, autumn, my second course, first semester. A. Vaitkūnas gave the first task to our group, "The weather is good, go outside and paint some rubbish heaps, ruins or other objects suitable for painting. Plain-air."
We took our paints, easels and crawled towards the door sighing. A.Vaitkūnas walked back and forth in the auditorium and encouraged us, "Go, go and paint!" Later he stopped in a pensive mood and asked himself aloud, "What else can a person do if not paint?"